An ancient First Nations ritual steeped in symbolism is going to take place in the nation's capital this summer.
 by Carlito Pablo on Jun 25, 2014,
Straight.com
, Vancouver BC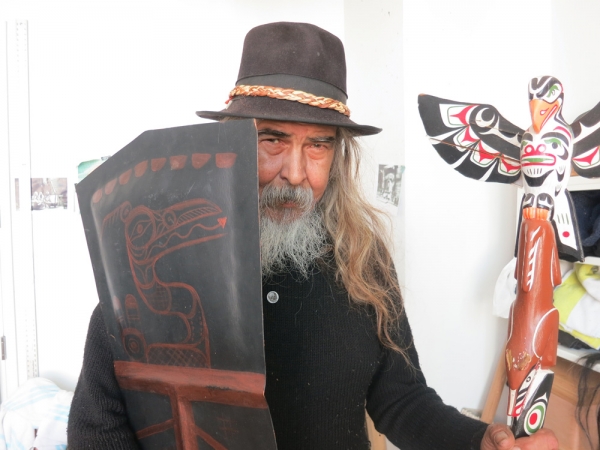 A copper shield will be smashed on Parliament Hill, an act believed never to have been done before in Ottawa. Called copper cutting, the ceremonial shaming practice will evoke what many consider to be a broken relationship between the federal government and Canada's aboriginal people.
"Our coppers are a symbol of justice, a symbol of truth, a symbol of balance," according to Beau Dick, a renowned carver from Vancouver Island's Namgis First Nation.
At his UBC studio, the resident artist in the department of art history, visual art, and theory explained that breaking copper constituted an insult in old times.
"It is banishment. It is an expression of extreme disappointment and anguish," Dick explained to the Georgia Straight.
The ritual, indigenous to Natives of the Pacific Northwest, had not been practised for decades until the 59-year-old artist revived it last year.
After marching for a week from the northern tip of Vancouver Island with relatives and supporters, Dick shattered a copper shield in front of the B.C. legislature in Victoria on February 10, 2013.
During a gathering at UBC later last year to celebrate his artist residency, the idea was born to perform the ceremony in Ottawa. One of those present at that social event was Giindajin Haawasti Guujaaw. Also a famous carver, Guujaaw is a former president of the Council of the Haida Nation.
When aboriginal representatives meet on Parliament Hill on July 27 for the shaming ceremony, it will be Haida copper that will be split.
"We're facing a federal government here that has shown total disregard for the environment, for the wildlife, for the people of the coast, and we want to express that in the best way that we can and that's in the breaking of the copper," Guujaaw told the Straight in a phone interview.
Foremost among the grievances is Ottawa's recent approval of Enbridge Inc.'s Northern Gateway oil pipeline, a $7.9-billion project that has divided First Nations in B.C.
"It's a one-show pony over there. They're only interested in oil," Guujaaw noted.
The Haida artist also mentioned cutbacks to Fisheries and Oceans Canada undermining the conservation of marine resources that many Native groups rely upon for food and cultural purposes. Guujaaw said he doesn't expect anything to change on the part of the government anytime soon.
As to what aboriginal people want to put across to Ottawa, Guujaaw said: "The message will be the ceremony."
In the past, copper was a marker of Native wealth and status, according to Eldon Yellowhorn, chair of SFU's department of First Nations studies. When chiefs held a potlatch, the metal was given as a gift, said Yellowhorn, who hails from Alberta's Piikani First Nation.
Although the planned breaking of copper may be symbolic, he noted that it's indicative of Native sentiment about processes around projects such as oil pipelines. "Many of them feel that they haven't been consulted," Yellowhorn told the Straight by phone, "so I'm sure this is a way of illustrating to the government that they're not pleased."
Like broken metal, frayed relationships can be restored, but there should be amends, according to Dick. "There has to be atonement," he said.
On Wednesday (July 2), Dick and Guujaaw will meet at the UBC First Nations House of Learning for ceremonies to kick-start a cross-country journey to Ottawa. Dick's five-year-old grandson and an almost 90-year-old aunt are coming along.
"We as a First Nation group want to move forward together in unity with our fellow men to create a better world," Dick said. "I think that this is where we start this notion of reconciliation and unity."