The truth about dementia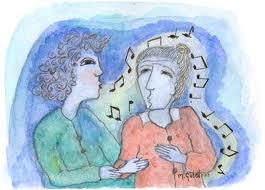 By Andrew Gobin
I will forever remember the night 12 years ago when my family was plunged into the world of dementia. It was late one night when my father, sister, and I arrived at Providence Colby Campus hospital in Everett. My grandma had just had back surgery and was out for recovery. At 12 years old, I was fairly familiar with the hospital hallways, not at all afraid or uneasy about visiting people in the hospital, having been there many times to see family friends and relatives. I thought this was just another routine visit. Even so, I was not prepared for what I was about to see.
My Uncle Joe had arrived shortly before we did. Grandma was upset and confused. She did not know me or my sister, she barely knew her sons. She had been given Vicodin for the pain as part of routine recovery. Grandma didn't have a drug tolerance, never taking anything much stronger than Tylenol. Anyone who has experienced the effects of Vicodin can tell you, it messes with the mind in inexplicable ways. As grandma's pain management drugs were changed, trying to bring her out of her delusion, the hard reality was that grandma had changed overnight, permanently.
After a few years trying many different care options, including a detox and psychiatric analysis, we were told that grandma suffered from dementia. And so began my family's journey through territory none of us knew anything about, having to learn how to navigate the tumultuous seas of grandma's mind.
Many families in the Tulalip community face dementia in one form or another. The condition affects people in different ways, often leaving the families caring for their grandparents and parents, feeling left with nowhere to turn for advice and support. On Thursday, August 19, Tulalip Behavioral Health, along with the Tulalip Karen I. Fryberg Health Clinic and Tulalip Family Services, will be hosting an event for people to come and hear what medical professionals have to say about dementia, what assistance programs are available at Tulalip, and to share their stories and concerns in a quest to better understand the condition. I know for me, I had many questions, and still do today.
Family Services psychiatrist Dr. Grosskopf will discuss what exactly dementia is and how it is different from normal aging, in addition to general symptoms, how dementia is treated, and how patients and their families can cope.
For grandma, the change came literally overnight. She went to the hospital as her same old self, and woke up an entirely different person. It's hard to comprehend how such a drastic permanent change can happen so quickly. We had to adjust suddenly, learning how to care for grandma, how to interact with her and live in her world. I was not me, at least not in her world. I was my father or my brother, or sometimes no one at all. But every once in a while, I was myself.
Rosemary Hill, mental health therapist at Family Services, has some insight on this, as dementia has touched people in her life.
"I'm not comfortable lying to them," she began, "but trying to understand the world and the time that they are living in, sometimes playing along or deflecting is best. My husband has dementia. He never really has been able to grieve the loss of his son. He asks where he is. Or he will say he knows something is wrong with his son, but he doesn't quite know what it is. How many times can you really tell someone their son died?"
The same was true for grandma. My Auntie Cherie was developmentally challenged, and lived with my grandparents for much of her life. She passed away the year after grandma's dementia developed. Grandma would ask about her, where she was, who was watching her, and we had to respond as if she was in her room watching TV, or out on a drive with one of her brothers.
Hill will present on how she helps patients to manage their lives. Symptoms are so different and individual. There are those, like grandma, who change at the flip of a switch. For some, the diagnosis seems to have no effect until a rapid decline near the end, and yet others see a steady regression. Hill helps people to learn how to care for all of these, regardless of a diagnosis. With grandma, we cared for her for a while before she was diagnosed with dementia, and there were times when she was so upset she would fight everyday tasks.
Hill said, "How do you care for someone refusing to eat, bath, or clothe themselves? These are the behaviors I help people manage."
Sometimes, it's not about the loss of function at all, it's about feeling insulted or embarrassed. Grandma refused to eat, unless we were all eating. And, she would refuse to eat if what was on her plate was different than everyone else, or if her food was all pre-cut into bites. But she could still feed herself, often stealing food from my plate when she thought I wasn't looking.
There is a point where people do need help. As the condition progresses and people lose memory, they also lose their ability function normally. It seems that too often dementia goes undiagnosed, untreated, and denied or ignored out of embarrassment. Alison Brunner, who manages the caregiver program, explains many people's attitude towards admitting that they need help. Admitting they can no longer live alone and need someone available for 24-hour assistance is a loss of independence.
"People don't want to talk about it. They don't want to admit that their memory is slipping. The Tulalip people are a strong people, a proud people," she said.
Even today, now four years after grandma's passing, it is still difficult to write about. My grandma was General Manager of the Tulalip Tribes, asked to return from retirement twice to help keep the tribal government operations on track. Growing up, I knew her to be a strong woman, sharp, and high-functioning. She cared for my aunt, my grandfather, and anyone that needed help. To lose her to dementia so quickly was devastating, and though we lived through it, I don't remember ever really talking about it.
The seminar that will be on August 19 at the Tulalip Administration building is intended to inform, but also to share in experiences and gather support and strength. There is so much to understand about dementia, but even a simple understanding can bring reassurance with such an uncertain and inconsistent disorder. I know for my family, working to understand dementia seemed to make caring for her easier. Hopefully, families that attend the seminar will have the same realization.
Andrew Gobin is a staff reporter with the Tulalip News See-Yaht-Sub, a publication of the Tulalip Tribes Communications Department.
Email: agobin@tulalipnews.com
Phone: (360) 716.4188