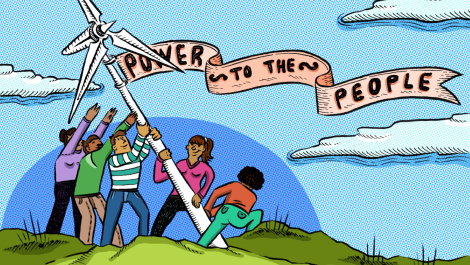 By Brentin Mock and Jacqueline Patterson, Grist
As Jelani Cobb wrote recently in The New Yorker: "The past year has offered an odd object lesson in historical redundancy. The 50th anniversaries of major points in the civil-rights movement tick by at the same time that Supreme Court decisions and political maneuvering in state legislatures offer reminders of what, exactly, the movement fought against."
The most recognizable example of what Cobb is referring to is the U.S. Supreme Court's 2013 Shelby v. Holder decision, which severely weakened the heralded Voting Rights Act just weeks before we recognized the 50th anniversary of the historic March on Washington that made the civil rights law possible. Earlier this month, we recognized the 50th of the Civil Rights Act, and next year will mark the half-century mark of the Voting Rights Act itself. And yet equal protection for people of color seems to be moving backwards.
Why should this matter to the average white (green) American? Well, for many reasons. But one of them is this: In our ever-browning America, empowering black and brown voters is absolutely necessary to make the transition to clean energy.
Consider that only 51 percent of American voters "strongly" prefer clean energy investments, according to a recent Sierra Club survey, but preference is significantly higher among African-American voters (77 percent) and Latino voters (71 percent). A Yale study found that African Americans and Latinos are more likely than whites to require electric utilities to produce at least 20 percent — a modest sum — of energy load from wind or solar, even if that would increase electric bills.
And yet it's white men who exercise most of the power over the current coal-based economy – via their places on corporate boards, their positions in politics, and, on the local and state level, where they make up the bulk of public utility and service commissioners. The utility commissioners (who are usually elected or appointed) regulate the corporate-owned utility industries, determine electricity costs and, in some cases, decide where power plants can be built.
These utility commissioners will play a critical role in hammering out the details of the Environmental Protection Agency's recently announced regulations for coal-fired power plants. Yet, many of them do not look like the residents that the utilities serve. According to a study from the Minority and Media Telecom Council, 33 state public utility commissions (64.7 percent) do not have a single minority member — that includes Louisiana, Alabama, Mississippi, Georgia, and South Carolina, the states with the highest concentration of black residents.
We also see this whiteout at the federal level, where the number of people of color serving in the U.S. House and Senate energy committees are but a handful.
You can chalk this lack of diversity up to the kind of patronage and cronyism that has preserved these powerful roles for white men —  a function of white supremacy. You can also credit voter suppression and intimidation, which happen even in local utility district elections. In fact, such shenanigans are harder to detect in these smaller races that don't draw the same kind of media spotlight as a gubernatorial or presidential race. In the 1980s and 1990s, when African Americans built multiracial coalitions to diversify local utility boards and electricity co-ops throughout the South, white officials secretly changed election rules to disqualify their votes (read more on this here).
Other examples:
● In 2000, the Department of Justice filed a voting rights complaint against the Upper San Gabriel Valley Municipal Water District in Los Angeles County, Calif., for redrawing district lines so that the Latino voting populations would be diluted across the district.
● In 2008, Texas proposed to change its qualification requirements for candidates running for water supply district supervisor so that only landowners would be eligible, which ruled out a number of Latino Americans seeking candidacy and some who were already supervisors.
● Also in 2008, the North Austin Municipal Utility District v. Holder case, which the U.S. Supreme Court almost used to dismantle the Voting Rights Act, involved elections for positions that control utility, land, and water resources.
These cases show how racial disenfranchisement drains power, energy, and resources from people of color, which is why Voting Rights Act protections are so essential.
People are taking action despite these problems. Latino Americans are campaigning to defeat a proposal from the Public Service Company of New Mexico, which wants to build more coal and nuclear energy stations. In Arizona, Latinos are campaigning to encourage the Salt River Project public utility board to increase solar and wind energy generation. In South Carolina, Rev. Leo Woodberry is leading an environmental justice effort to work on the state's implementation plans for the new power plant regulations, with an emphasis on making sure electricity rates remain affordable and accessible for low-income customers.
Understand, it's not only that we need more black and brown utility commissioners. But voters need to ensure that commissioners of any race represent their clean energy values. Last year in Georgia, a multi-racial band of clean energy advocates teamed with the not-so-colorful Tea Party to force Georgia Power Company to increase solar-based energy production. The coalition did this by appealing to the Georgia Public Service Commission. There has been only one African American and one woman who've served on Georgia's Public Service Commission in its 133 years, both of them elected in the 21st century.
These are laudable campaigns, but ultimately it will require African-American, Native-American, and Latino American voters being able to vote fairly and freely — and also to be able to serve on these boards — to ensure that those paying the highest costs for our fossil fuel addiction have a voice in securing a clean energy future. For all Americans who want the same for their future, the way to act is to support strengthening voting rights protections across the nation.
Brentin Mock is Grist's justice editor. Follow him on Twitter at @brentinmock.