By Brandi N. Montreuil, Tulalip News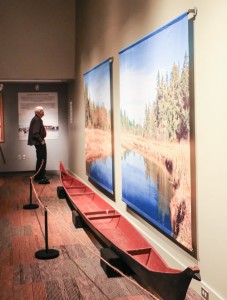 TULALIP –  The first Thursday of each month the Hibulb Cultural Center & Natural History Preserve features free admission to their exhibits, guest lectures and workshop series and a chance to purchase new arrivals at the center's gift shop.
Guests today will enjoy free admission to the center's new exhibit, A Journey with our Ancestors: Coast Salish Canoes, in addition to its main exhibit where you will learn about the history of the Tulalip Tribes, and  Warriors We Remember, a gallery that tells the story of the Tulalip Tribes military tradition. This exhibit honors the Tulalip men and women who served their country in time of conflict and peace.
A Journey with our Ancestors: Coast Salish Canoes features a linear format which tells the historical timeline of canoe use and importance starting with pre-contact. Visitors will not only learn how canoes are used by Coast Salish tribes to travel, but also the different canoe styles, anatomy and how they are constructed, along with traditional canoe teachings and stories and about canoe carvers, canoe races and canoe journeys.
There is no scheduled workshop or guest lecture today.
Hibulb Cultural Center is open Tuesday through Friday , 10:00 A.M. to 5:00 P.M. and Saturday and Sunday from 12:00 P.M. to 5:00 P.M. and is located at 6410 23rd Avenue NE, Tulalip, WA, 98271. For more information about the center, please visit their website at www.hibulbculturalcenter.org.
Brandi N. Montreuil: 360-913-5402; bmontreuil@tulalipnews.com