By: Anna King, NW News Network
A skeleton that's about 9,000 years old is giving up a few of his secrets today. Monday, scientists who have a new book about the ancient remains found near Kennewick 18 years ago spoke to the press.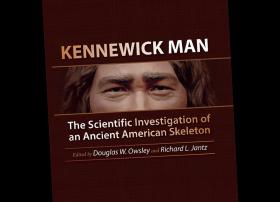 The volume titled, "Kennewick Man: The Scientific Investigation of an Ancient American Skeleton," is due to hit bookstands in mid-September.
Kennewick Man was found resting in the shallow water of the Columbia River 18 years ago. His early story was that of some strife. A rock-point is buried in the bone of his hip.
The Northwest tribes that want to rebury the ancient remains, and the scientists that want to study him fought for years in court. This new book reveals the studies that were ultimately allowed by federal court.
The book explains that Kennewick Man was likely a coastal sea hunter from the far north. And he hadn't been in Washington's desert too long.
"He lived most of his life in coastal locations, north of the state of Washington," said Doug Owsley, the book's co-editor. "And in keeping with these findings you know if you look at Kennewick Man's dental wear its reminiscent of working hides, and similar to really wear that we see in early Eskimo skeletons."
Owsley says there's still one question he's dying to answer: What kind of rock is the stone point made from that's buried in K-man's hip? That would give clues to his routes across the North American landscape.