A group of Oklahoma State University football fans have sparked outrage for a sign they created to hold during ESPN's GameDay football-preview show.
The Oklahoma State Cowboys play the Florida State Seminoles tonight in a game in Arlington, Texas. The fans in question evidently felt that referencing a historical tragedy would be a clever play on the Seminoles' name, and created a banner that said "Send 'Em Home #trail_of_tears #gopokes".
Influential sports blog Deadspin.com called it "one of the dumbest GameDay signs you'll ever see."
The sign is concerning on a few levels. The Trail of Tears refers to the consequence of the Indian Removal Act of 1830: The forced relocation of American Indians from the southeastern United States to Indian Territory, a region which would later be known as Oklahoma. Between 1830 and 1837, some 46,000 Indians were removed, and many thousands died on the journey west. It's odd, to put it mildly, that Oklahoma State football fans in particular could create a sign (and it's not a small sign) that so casually treated a tragedy that is an integral part of their own state's history. According to 2010 statistics, Oklahoma State graduated the most Native American students of any college in the country, and its student body was 9.2% American Indian or Alaska Native.
RELATED: ESPN Announcer Apologizes for "Trail of Tears" Comment
There's also something ignorant about a sign that references the Trail of Tears and also says "Send 'Em Home." The Trail of Tears wasn't about sending anybody home — it was about driving Native people from their homes. And in a larger sense, the entire continent was Natives' "home" until certain uninvited guests showed up, beginning in 1492.
Today is the Cherokee National Holiday; when contacted for comment, Cherokee Nation Principal Chief Bill John Baker said that the sign was "not going to ruin our holiday. … We're trying to at least educate our state and other states as well so they truly understand, and we've got more work to do."
From the official @okstate twitter feed, the university addressed the issue with the following statement: "OSU does not condone the insensitive sign shown at today's GameDay event and have requested that it be removed."
The general reaction on Twitter has been one of outrage and disappointment, from Natives and non-Natives alike. Mark Charles, Navajo, who tweets as @WirelessHogan, summed up his feelings with the following graphic: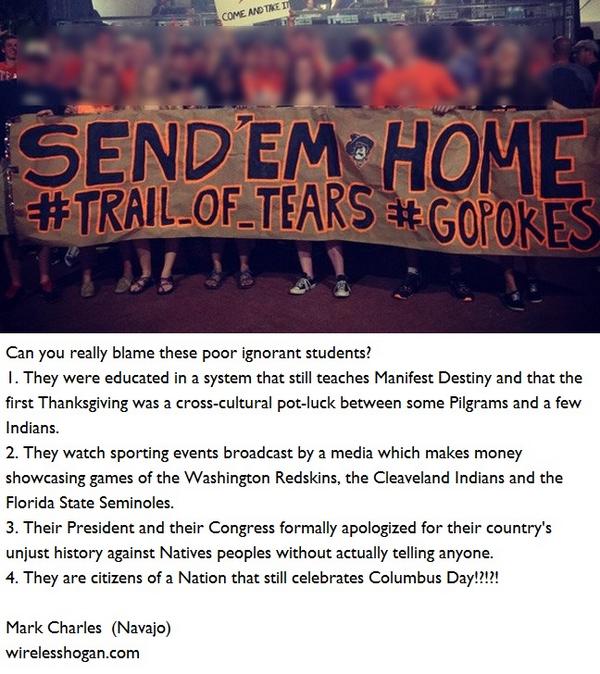 Read more at
http://indiancountrytodaymedianetwork.com/2014/08/30/oklahoma-state-fans-hold-trail-tears-banner-college-gameday-156681