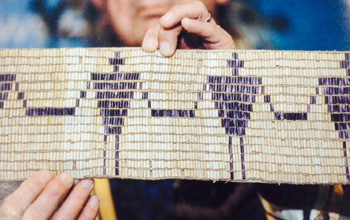 Source: Native Times
WASHINGTON – The Smithsonian's National Museum of the American Indian will open the "Nation to Nation: Treaties Between the United States and American Indian Nations" exhibit Sept. 21 during the museum's 10th anniversary on the National Mall.
The exhibit is the museum's most ambitious effort yet, presenting the Native nations' individual treaties side-by-side in their largest historical collection ever presented to an audience. The exhibition focuses on eight treaties representing the approximately 374 ratified between the United States and the Native nations, on loan from the National Archives. Each document details and solidifies the diplomatic agreements between the United States and the neighboring Native nations.
More than 125 objects, including art and artifacts, from the museum's collection and private lenders will be featured, including the Navajo blanket owned by Gen. William Sherman, a collection of Plains nations pipes and beaded pipe bags, peace medals given to Thomas Jefferson and George Washington and the sword and scabbard of Andrew Jackson.
Video installations, archival photographs, wampum belts, textiles, baskets and peace medals highlight each historical moment and help tell the story of the early ancestors of the Native nations and their efforts to live side-by-side at the birth of the United States.
The exhibit will be on display through Sept. 1, 2018. The NMAI's hours are 10 a.m. to 5:30 p.m. daily. It is closed on Dec. 25. Admission is free. The museum is located at 4th St. and Independence Ave. SW.
To learn more about the exhibit, email asia.romero@edelman.com, or call 202-772-4294.