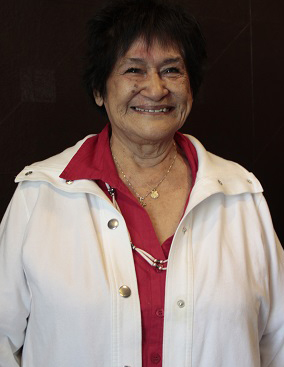 By: Northwest Indian Fisheries Commission
OLYMPIA – Lorraine Loomis, a Swinomish tribal member, has been elected chair of the Northwest Indian Fisheries Commission.
She replaces the late Billy Frank Jr., who served as NWIFC chairman for more than 30 years. Frank died on May 5, 2014 at the age of 83.
"I am honored and humbled to be elected chair of the NWIFC," said Loomis. "No one can ever replace Billy. It will take all of us to carry on his work."
Loomis, who was serving as vice-chair of the commission, will fill the remainder of Frank's term as chair through May, 2016. Shawn Yanity, Stillaguamish tribal chair, was elected to replace Loomis as vice chair. Ed Johnstone, Quinault Indian Nation, will continue as NWIFC treasurer.
Loomis, 72, has been Swinomish tribal fisheries manager since 1975. She has extensive experience in fisheries management throughout the region. She currently serves on the Fraser River Panel of the Pacific Salmon Commission that manages sockeye and pink salmon under the U.S./Canada Pacific Salmon Treaty. Loomis also coordinates tribal participation in the annual North of Falcon salmon season development process with the State of Washington.
"Our treaty rights are at serious risk today," Loomis said. "Salmon recovery is failing in western Washington because salmon habitat is disappearing faster than it can be restored. If there are no salmon available for harvest, our treaty rights mean nothing. We must stop this ongoing loss of habitat, but so far the trend shows no sign of improvement. We are looking to the federal government, as our trustee, to take a more active role in salmon recovery and lead a more coordinated salmon recovery effort."
The NWIFC is a support service organization for the 20 treaty Indian tribes in western Washington that are co-managers of the region's natural resources with the State of Washington. The commission provides services to tribes in areas such as fisheries management, habitat protection and fish health. The NWIFC also provides a forum for tribes to address shared natural resource management concerns and enables the tribes to speak with a unified voice.
The NWIFC is headquartered in Olympia, with satellite offices in Forks, Burlington and Kingston and employs a staff of 70.