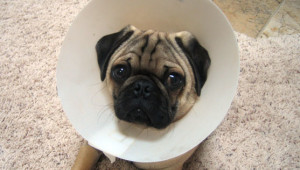 Olivia Poblacion, OPB

Animal lovers are spending more on their pets than ever, and a lot of that money is going into vet care.
But medications the vet prescribes for Fido's health may be contaminating our watersheds.
Just like pharmaceuticals and personal care products (PPCPs) for humans, soaps and medicines for pets contain compounds that can harm aquatic ecosystems.
"There is a cocktail of chemicals being detected in our watersheds," said Sam Chan, a watershed health specialist with the Oregon Sea Grant.
Even though the concentrations are low, PPCPs in watersheds have still been shown to impact the development and behavior of fish and can make them more susceptible to predation.
The National Sea Grant program recently partnered with the American Veterinary Medicine Association to promote the reduction of improper PPCP disposal. As part of this project, Chan and other researchers at OSU are launching a national survey to learn more about the practices and awareness of this issue among pet owners and veterinary professionals.
"The main way people dispose of these products is by throwing them in the garbage," Chan said. "It seems like a reasonable solution, but when they go to the landfill, rain seeps through and then the water is contaminated with those compounds."
So what's the best way to get rid of unused PPCP's for pets? Definitely don't flush them. Chan recommends either taking them to a drug take-back event or mixing them with something unpalatable to pets (such as coffee grounds) and then putting them in a sealed container and depositing in the trash.