By Brandi N. Montreuil, Tulalip News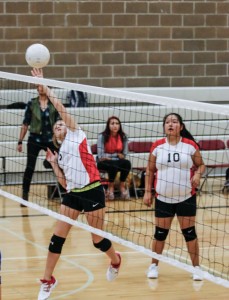 TULALIP – The curse of the Eagles struck the Tulalip Lady Hawks again in last night's game against Grace Academy Eagles, 0-3, played at Heritage High School.
Both teams stepped on the court looking to take a win after both teams experienced crushing losses in their season openers. But Lady Hawks' lack of communication, which has plagued the team since the start, enabled the Eagles to easily take the lead.
The Lady Hawks came together in the second match to score 17 points but couldn't hang on to turn the tide.
Tulalip Heritage – 8  17  15 – 0
Grace Academy – 25  25  25 – 3
You can watch all home games live on Tulalip TV or online at www.tulaliptv.com.
Brandi N. Montreuil: 360-913-5402; bmontreuil@tulalipnews.com