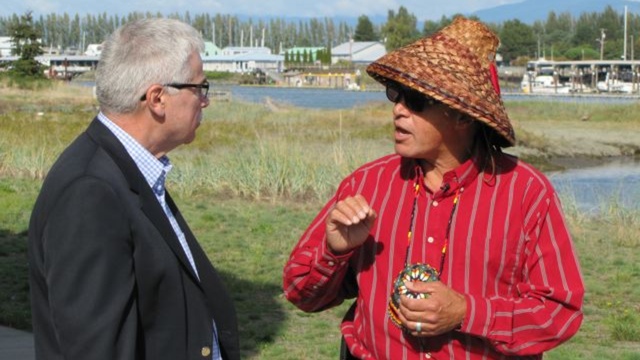 by Ashley Ahearn, KUOW
La Conner, Wash. — The Swinomish people have lived near the mouth of the Skagit River north of Seattle for thousands of years. Now, climate change threatens their lands with rising seas and flooding.
The Obama administration recently awarded the tribe a large grant to help cope with climate change.
The entire Swinomish reservation is pretty much at sea level, on a spit of land tucked into Skagit Bay.
Tribal chairman Brian Cladoosby says that as the waters rise, his people have been some of the first to feel the effects.
"We are experiencing it," Cladoosby said Thursday. "We are witnessing it. For us here on Swinomish, we live on an island."
The tribe has nowhere else to go. Flooding has put the tribes commercial areas and infrastructure at risk.
So, more than a decade ago, the Swinomish started planning.
Larry Campbell Sr., the tribal historic preservation officer, remembers.
"We took the stance where at the federal government level the scientists were still arguing, 'is climate change a reality?'" he recalled. "We said 'no, it's a reality. What are we going to do to mitigate it?'"
The federal government took notice of the tribe's climate change preparations.
"The Swinomish is a tribe that has shown leadership on climate in the past," said Dennis McLerran, the Northwest Regional administrator of the Environmental Protection Agency. The EPA has awarded the Swinomish a $750,000 grant. McLerran met Thursday with tribal leaders to discuss their plans.
The money will be used to map where sea level rise will affect tribal infrastructure and sacred places. It will also fund an assessment of how climate change will impact tribal health and natural resources – like salmon.
"We think this is money well spent. The work that they're doing here is work that we think will be valuable in a variety of other places and particularly for vulnerable communities and for tribal communities," McLerran said.
Scientists project that sea levels could rise by more than 3 feet by the end of the century.