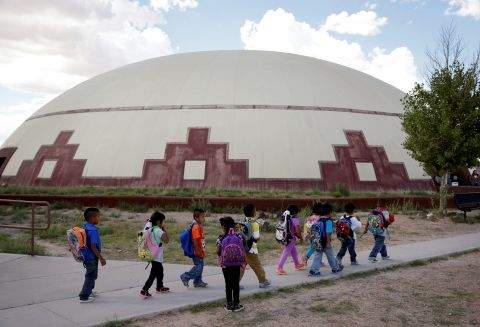 By Kimberly Hefling, AP Education Writer
WINSLOW, Ariz. (AP) — The federal government finances 183 schools and dormitories for Native American children on or near reservations in 23 states. The schools are some of the nation's lowest performing.
An effort is underway to improve them.
Five things to know about the Interior Department's Bureau of Indian Education schools:
___
THE IMPROVEMENT PLAN
The Obama administration wants to turn day-to-day operations of more of the schools over to tribes, bring in more board-certified teachers, upgrade Internet access and make it easier to hire teachers and buy textbooks. The plan also seeks to provide more support to schools to advance American Indian languages and culture.
But many the schools are in poor physical condition. An estimated $1.3 billion is needed to replace or refurbish rundown facilities, and not much money is coming from Washington. There also is much mistrust of the federal government, given the history of forced assimilation.
___
TAINTED HISTORY
The system of government boarding schools to educate Native American students was established in the 19th century as part of an assimilation policy to "eradicate Native cultures and languages through Western education," according to a government study group.
One of the first to be run directly by Washington was the Carlisle Indian Industrial School in Pennsylvania, which opened in 1879. It was founded by Richard Henry Pratt, an Army officer who said, "Kill the Indian in him, and save the man," according to Jon Reyhner, an education professor at Northern Arizona University.
Many commissions have called for improvements to Indian schools. One, in the 1920s, said the students should be treated as "human beings."
In 1966, what was then called the Rough Rock Demonstration School opened in Chinle, Arizona, a prototype of the schools that are today owned by the federal government but run by tribes.
___
MODERN HISTORY
While about 7 percent of Indian students attend a bureau school today, the great majority are at traditional public schools.
Only a few bureau schools fully immerse students in a Native American language or culture. Others offer them in lesser degrees. But this type of instruction is a draw for parents.
About 6,900 students live in dorms operated by the bureau.
___
ONE SCHOOL
Little Singer Community School outside Winslow, Arizona, was the vision in the 1970s of a medicine man who longed for area children to attend a local school. Today, it serves 81 students and school leaders emphasize a nurturing environment. But the rundown classroom buildings have problems with asbestos, radon, mice, mold and flimsy outside door locks. The school has been on a government priority list since at least 2004 for new construction.
___
PERFORMANCE OF NATIVE AMERICAN STUDENTS
Indian students overall score higher overall on assessments than those who attend bureau schools.
Native American students overall have high school graduation rates that are lower than the student population as a whole, 68 percent compared with 81 percent, according to government figures from 2011-2012. They also lag peers on a national assessment known as the "nation's report card" and have lower rates of college completion.
In a 2011 survey conducted as part of the national assessment, 56 percent of Native American and Alaska Native students reported knowing some or a lot about their tribe or group's history. The rest reported knowing little or nothing.