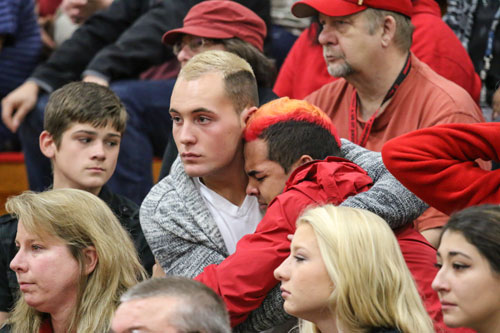 In the aftermath of  the tragic event on October 24, students of Marysville Pilchuck High School gather with friends and family
By Brandi N. Montreuil, Tulalip News
MARYSVILLE – Pictures taken from yesterday's Marysville School District's community meeting at Marysville Pilchuck High School show Marysville/Tulalip community's grief.
Both communities joined together to discuss Friday's tragic event and begin the healing process.
Speakers included Marysville School District Superintendent Dr. Becky Berg, Dr. Tom Albright, Tulalip Councilwoman Deborah Parker, Tulalip tribal member and MPHS wrestling coach Tony Hatch, Marysville Mayor Jon Nehring, Marysville Chief of Police Rick Smith, Pastor Andrew Munoz of Marysville Grove Church and Shari Lovre.
Following opening remarks from guest speakers students were able to meet separately with their peers and counselors. Mental health counselors and other specialists were on hand during the meeting to offer support to anyone who needed it. Parents were also meet separately to discuss concerns and ask questions.
During the event Tulalip tribal member Tony Hatch addressed the community asking for continued prayers for the families grieving, "We are really damaged right now. We've got families all over Tulalip and families all over Marysville who are grieving really hard right now. We can never understand why this may have happened, and we can't understand that."