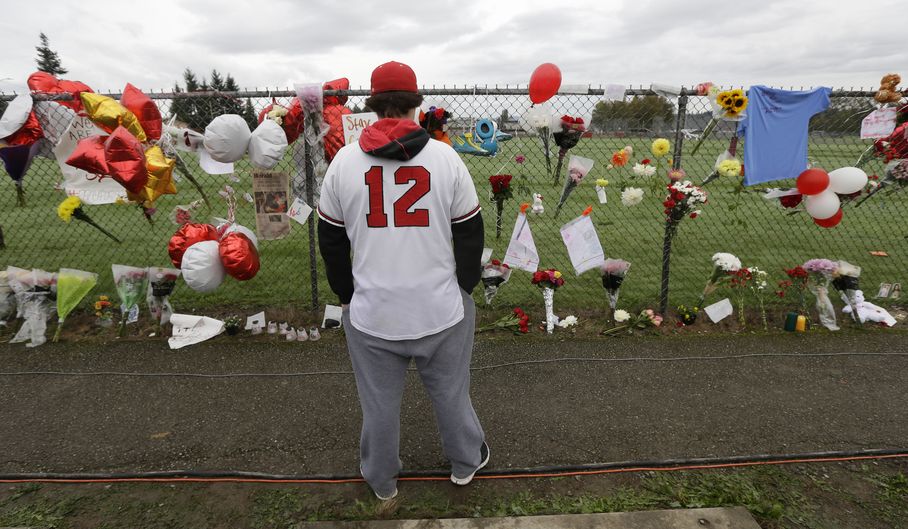 By GENE JOHNSON, The Associated Press
MARYSVILLE, Wash. —Among the balloons and flowers tied to the chain-link fence outside Marysville-Pilchuck High School are these: a white wrestling shoe; a youth football team photo, with one player encased in a red-marker heart; and a candle covered with a plastic cup bearing the name "Jaylen."
They are all tributes to Jaylen Fryberg, the popular 15-year-old freshman who texted five friends to invite them to lunch Friday and then gunned them down at a table in the school's cafeteria.
Two girls died in the attack, and three other students — including two of Fryberg's cousins — were gravely wounded. Fryberg died after shooting himself.
While families or friends of shooting victims sometimes express sympathy or forgiveness for the perpetrators, the notion of a mass shooter being memorialized alongside his victims is unusual, experts say. It speaks to the unique grief this community is feeling, even in a nation where such horrors are becoming ever more common.
"Usually there's so much anger and frustration and bewilderment in the aftermath, and generally the shooter is not someone who was this loved over time," said Carolyn Reinach Wolf, a mental health attorney who studies mass shootings. "This is a very different response. Some of that is a credit to the community: People are able to get past the grief of the victims and see that the shooter's family is grieving and horrified just as much."
Fryberg, a football player who was named a prince on the school's homecoming court one week before the killings, was a member of a prominent Tulalip Indian Tribes family. He seemed happy, although he was also upset about a girl, friends said. His Twitter feed was recently full of vague, anguished postings, such as "It won't last … It'll never last," and "I should have listened. … You were right … The whole time you were right."
On Friday, he pulled out a handgun in the cafeteria and started shooting. The victims were Zoe R. Galasso, 14, who died at the scene; Gia Soriano, 14, who died at a hospital Sunday night; Shaylee Chuckulnaskit, 14, who is in critical condition; and his cousins, Nate Hatch, 14, and Andrew Fryberg, 15.
Andrew Fryberg also remained in critical condition. Hatch, who was shot in the jaw, is the only victim who has shown improvement. He was upgraded to satisfactory condition Monday in intensive care at Harborview Medical Center in Seattle, where he posted a message of forgiveness on Twitter.
"I love you and I forgive you jaylen rest in peace," he wrote. A friend confirmed the feed's authenticity to The Associated Press.
Wolf said she urges parents, teachers and others to look for changes in children that could indicate something is wrong — such as Fryberg's Twitter postings.
"I'm very big on training people to watch for the change, watch for the red flags," she said. "Yes, he was popular, but there came a time when something changed. If people are educated to look for those, these are things they can do intervene."
Dan Gross, president of the Brady Center to Prevent Gun Violence, said the Marysville shooting fit a pattern: In two-thirds of school shootings nationally, the attacker used a gun from their own home or from a relative. Authorities have confirmed the gun was legally owned by one of Fryberg's relatives; it's not clear how he got it.
"There's a fine line between suicide and school shooting," Gross said. "We've talked to many parents whose kids took their own lives who say to us there were no warning signs. But there's a risk just by being an adolescent and going through a breakup or other kind of crisis — you have what's often a fleeting thought of suicide, and access to a weapon that's at your disposal to make it happen."
The Snohomish County medical examiner on Monday ruled Fryberg's death a suicide. There had been some question over whether he might have shot himself accidentally as a teacher tried to intervene, but Snohomish County Sheriff Ty Trenary said there was no physical contact between the teacher and the gunman.
At the memorial outside the school Monday, a group of mourners hugged each other tightly at 10:39 a.m. — the minute the shooting was reported Friday. Flowers and signs were zip-tied to a chain-link fence lined with red and white balloons, reflecting the school's colors. Many referenced the victims and said they would be missed.
"Jaylen where do I begin, you were my brother my best friend love you bro," read one message scrawled on a balloon.
"Jaylen, I will never forget you and your beautiful smile," read another.
Rows of plastic cups covered candles for each of the students — Fryberg included.