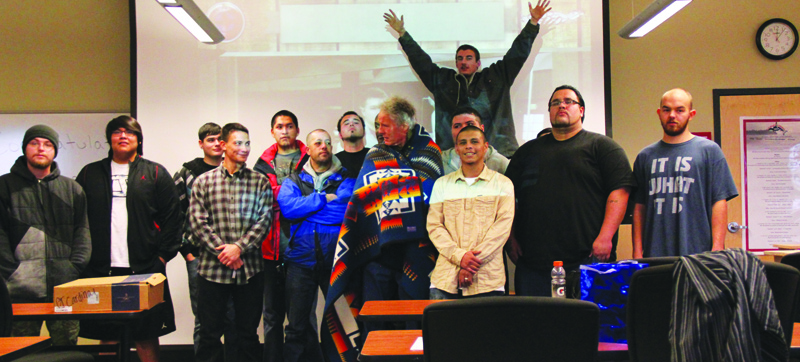 By Micheal Rios, Tulalip News
Sixteen students celebrated their graduation from an intensive three month pre-apprenticeship construction trades program on Monday, December 8, at the Tulalip Tribes administration building. The program, which is managed by the Tulalip TERO department, is the first state recognized Native American pre-apprenticeship program in the United States. The program is accredited through the Edmonds Community College and all in class curriculum has been formally approved by the Washington State Apprentice and Training Council. The three month course provides students instruction in the basics of the construction trade. In addition, they are awarded certifications in flagging, first aid/CPR, and an OSHA 10-hour safety card. Upon completion of the program students are ready to safely enter the construction work environment.
During the graduation ceremony, students shared what the program has meant to them, their favorite part of the program, and what their goals are after graduating. TVTC graduate Aaron Kornish commented on his favorite part of the program, "the opportunities of learning how to build things with various techniques, getting the opportunity to meet different trade representatives, and having the opportunity to expand my horizon."
While presenting their final thoughts to the audience of family, friends, trade representatives, and community members, students also presented their personal projects, a project they build as a class final that encompasses all the techniques and concepts they've learned over the past three months. Some projects included a skate board ramp, a four foot tall dresser, a cabinet for PlayStation 4 games, and an entertainment center.
Tulalip vice-chairman Les Parks delivered a brief speech to the graduates and audience members before the diplomas were handed out, noting that after graduating high school in 1975 he started a construction training program that was very similar to the TVTC program. "My recommendation to the students is to follow your dream, find your passion, find what fits you and go for it. Make it work," Parks expresses to the students, "Wherever you find your passion, follow it, and make it work for you."
Mark Newland, nine year instructor of the construction program, was presented with and wrapped in a Pendleton blanket by his graduating students to honor all the hard work and dedication he has given to his students and the program.
This winter session marked the second successful completion of the program since undergoing reform. No longer titled the Native American Construction Trades Employment Program (NACTEP), the program has been transformed into the TERO Vocational Training Center (TVTC) and is completely funded by Tulalip TERO in partnership with Washington State Department of Transportation (WSDOT) and the Tulalip Foundation. TVTC classes are offered at no charge to Tulalip tribal members, tribal members of federally recognized tribes, spouses/parents of Tulalip tribal members, and employees of the Tulalip Tribes. The next TVTC session starts January 27, 2015. For more information contact Lynne Bansemer, TERO Client Services Coordinator, at (360) 716-4746 or lbansemer@tulaliptribes-nsn.gov.
Winter Quarter Graduates 
Bradley Althoff, Tulalip
Mangus Bauer, Round Valley Indian Tribes
Nathan Bayhurst, Tulalip
Leonard Begay, Navajo
Joe Fox, Tulalip Spouse-Parent
Arrion John, Yakima
Aaron Kornish, Parent of Tulalip Tribes
Jordan Laducer, Turtle Mountain Chippewa
Micah Laducer, Turtle Mountain Chippewa
Blaze Medina, Tulalip
Dylan Monger, Tulalip
Greg Moses, Tulalip
Robert Ramos, Tulalip
Dylan Rivera, Yakima
El Tico Tyson, Spouse of Tulalip
Tyrone Yazzie, Navajo