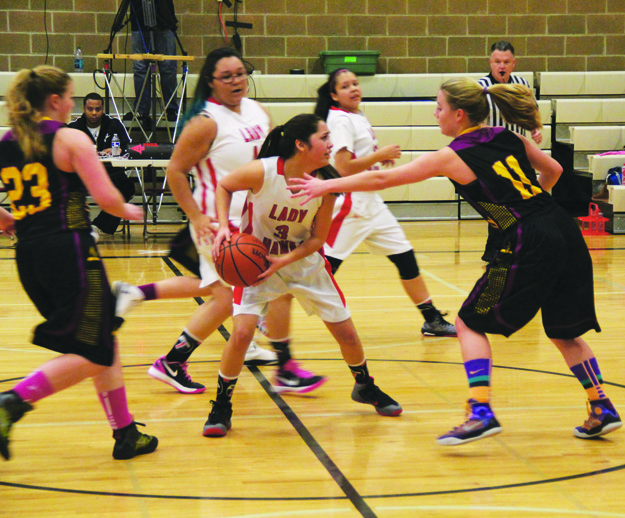 by Micheal Rios, Tulalip News 
Coming off their first win of the season, the (1-11) Lady Hawks were looking to keep the momentum going when they hosted the (7-2) Orcas Christian Saints on January 13. The Lady Hawks had two new players making their home debut, sophomore center #40 Cyena Fryberg and junior guard #2 Kaenisha Herrera, giving the team eight active players for the first time all season.
The 1st quarter started off well as forward Jaylin Rivera collected an offensive rebound and scored off her putback field goal. Two possessions later guard Michelle Iukes made a 3-pointer to tie the game at 5-5. The team's momentum then was halted as Orcas Christian switched into their 'diamond defense' that calls for full-court trapping of any Lady Hawk ball handler. The Orcas Christian defense forced seven turnovers and allowed the Saints to go on a 7-0 run to end the quarter.
Starting the 2nd quarter the Lady Hawks trailed 5-12. Orcas Christian continued to implement their 'diamond defense', forcing ten more Lady Hawk turnovers. When the Lady Hawks were able to break the Saints' pressure and advance the ball to the frontcourt they were able to get quality looks at the basket. Point guard Myrna Red Leaf made two jumpers and Iukes nailed a deep 2-pointer and a free throw to give the Lady Hawks 7 points in the quarter. However, on the other side the Saints were getting easy looks from their forced turnovers and scored 19 points in the quarter. At halftime the Lady Hawks trailed 12-31.
During the 3rd quarter the Saints stopped playing their 'diamond defense' and went to a more typical half-court press. The Lady Hawks were able to advance the ball quickly and break down that defense, especially for their 3-point shooters. Both Cyena Fryberg and Iukes were able to get open and make a 3-point shot, followed by a pair of made free-throws by forward Jaylin Rivera. When Red Leaf hit her 2-point jumper the Lady Hawks had gone an 11-2 run to win the 3rd quarter 11-7. With more quarter remaining the Lady Hawks cut their deficit to 15 points, 23-38.
Red Leaf and Iukes connected on back-to-back jumpers following a Saints' made free throw to open the 4th quarter. Their buckets pulled them within 12, 27-39 with 5:00 to play. Unfortunately, that was all the offense the Lady Hawks would get in the final quarter as the Saints closed the game on an 11-0 run. The Lady Hawks lost 27-50, but would be encouraged by their play in the 3rd quarter as a sign of how good they are capable of playing.