Submitted by Lori Hartelius M.S.  LMHC  MHP, Tulalip Family Services
What's wrong with throwing my medicines in the garbage or flushing them down the toilet?
About 30 percent of medicines are not used. Flushing waste medicines pollutes the environment. Medicines are now found in our surface and ground water, as well as drinking water supplies. Wastewater treatment facilities do not remove most medicines. Throwing medicines in the garbage – especially controlled substances like OxyContin and other pain relievers – is not safe because the drugs can be found and used by others. Medicines thrown in the trash can also get into the environment.  Leaving them in your medicine cabinets at home can also be dangerous and get into the wrong hands.  Taking any unused medication to a "take back" location is easier than ever.  There are numerous locations all around the county including most Bartell Drug stores and local police stations.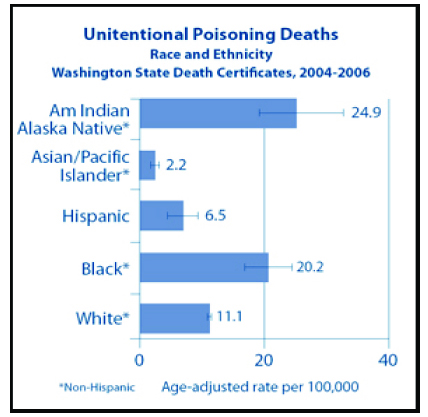 Stillaguamish Tribal Police 22714 6th Ave. NE, Arlington WA 98223  Mon-Fri, 8am – 10pm Accepts controlled substances  360-654-0645
Arlington Police Station 110 E. Third St., Arlington WA 98223-1300     Mon-Fri 9am-4pmAccepts controlled substances   360-403-3400
Bothell Police Department 18410 101st Ave. NE, Bothell WA 98011    Mon-Fri, 7am-4pm   Accepts controlled substances   425-388-3199
Bartell Drugs, Bothell – Canyon Park 22833 Bothell-Everett Hwy , 98021     No controlled substances      425-485-3525
Brier Police Station 2901 228th St. SW, Brier WA 98036 Monday-Friday, 8:30am-4:30pm Accepts controlled substances    425-388-3199
Darrington Police 1115 Seeman St., Darrington WA 98241  Monday-Friday, 9:30am-12pm and 1:30pm-5pm  Accepts controlled substances   425-388-3199
Bartell Drugs, Edmonds Pharmacy 23028 100th Ave. W, Edmonds WA 98020      Mon-Fri 9am-9pm; Sat 9am-6pm; Sun 10am-6pm  No controlled substances425-774-4916
Edmonds Police 250 Fifth Ave. N, Edmonds WA 98020 Monday-Friday, 9am-4pm Accepts controlled substances425-388-3199
Snohomish County Sheriff – Jail 3025 Oakes Ave., Everett WA 98201  Monday-Friday, 8am-10pm Accepts controlled substances     425-388-3199
Bartell Drugs, Everett – Silver Lake     11020 19th Ave , Everett WA 98208  No controlled substances   425-379-5390
Bartell Drugs, Everett – Broadway 1825 Broadway, Everett WA 98201 No controlled substances. 425-303-2583
Bartell Drugs, Everett – Seattle Hill Road 5006 132nd Street SE Bldg. A, Everett WA   No controlled substances    425-357-6129
Everett Police – North Precinct 3002 Wetmore Ave., Everett WA 98201   Monday-Friday, 8am-6pm Accepts controlled substances     425-257-8400
Everett Police – South Precinct 1121 SE Everett Mall Way, Everett WA 98208   Monday-Thursday, 10am-5pm Accepts controlled substances     425-388-3199
Group Health Cooperative, Everett Medical Center Pharmacy 2930 Maple St., Everett WA 98201 – Mon-Fri 8:30am-9pm; Sat 9am-3:30pm; Sun 9am-12:30pm  No controlled substances    425-261-1560     425-388-3199
NCIS – Naval Station Everett 2000 W Marine View Dr., Bldg. 2000, Rm 234, Everett WA 98201   Accepts controlled substances     425-388-3199
Snohomish County Sheriff – Courthouse 4th Floor Courthouse; 3000 Rockefeller Ave., Everett WA 98201  Mon-Fri, 9:30am-4:30pm Accepts controlled substances    425-388-3199
Gold Bar Police 107 Fifth St., Gold Bar WA 98251 Monday-Friday, 10am-12pm & 1pm-4pm Accepts controlled substances     425-388-3199
Granite Falls Police 205 S Granite Ave., Granite Falls WA 98252  Monday-Friday, 9am-12pm & 1pm-5pm   Accepts controlled substances     425-388-3199
Pharm-A-Save 207 E Stanley St #A, Granite Falls WA 98252   Monday-Friday 9am-7pm, Saturday 9am-6pm   No controlled substances     360-691-7778
Bartell Drugs Frontier Village Pharmacy 621 SR9 NE, Lake Stevens WA 98258    Mon-Fri 8am-9pm; Sat 9am-6pm; Sun 10am-6pm  No controlled substances     425-334-8410
Lake Stevens Police 2211 Grade Rd., Lake Stevens WA 98258  Monday-Friday, 8am-5pm Accepts controlled substances     425-388-3199
Bartell Drugs Lynnwood Pharmacy     17633 Highway 99, Lynnwood WA 98037  Mon-Fri 9am-9pm; Sat. 9am-6pm; Sun 10am-6pm  No controlled substances     425-743-1136
Lynnwood Police 19321 44th Ave. W, Lynnwood WA 98036  Monday-Sunday, 8am-5pm   Accepts controlled substances     425-388-3199
Marysville Police 1635 Grove St., Marysville WA 98270   Monday-Friday, 8am-3pm   Accepts controlled substances     425-388-3199
Snohomish County Sheriff– North Precinct 15100 40th Ave. NE, Marysville WA 98271 Monday-Friday, 9am-4pm Accepts controlled substances     425-388-3199
Washington State Patrol – Marysville 2700 116th St. NE, Marysville WA 98271  Monday-Friday, 9am-12pm & 1pm-5pm  Accepts controlled substances     425-388-3199
Bartell Drugs, Marysville  6602 64th St NE , Marysville WA 98270   No controlled substances     360-658-6218
Mill Creek Police15728 Main St., Mill Creek WA 98012  Monday-Friday, 9am-5pm Accepts controlled substances     425-388-3199
Snohomish County Sheriff– South Precinct 15928 Mill Creek Boulevard, Mill Creek WA 98012 – Monday-Friday, 10am-4pm Accepts controlled substances   425-388-3199
Monroe Police 818 W Main St., Monroe WA 98272 Monday-Friday, 8am-5pm  Accepts controlled substances     425-388-3199
Mountlake Terrace Police 5906 232nd St. SW, Mountlake Terrace WA 98043  Monday-Friday, 8am-4pm   Accepts controlled substances   425-388-3199
Bartell Drugs, Mountlake Terrace 22803 44th Ave W, Mountlake Terrace WA 98043  No controlled substances   425-771-3835
Mukilteo Police 10500 47th Pl. W, Mukilteo WA 98275  Monday-Friday, 9am-4pm    Accepts controlled substances   425-388-3199
Snohomish Police 230 Maple Ave., Snohomish WA 98290  Monday-Friday, 10am-3pm  Accepts controlled substances    425-388-3199
Bartell Drugs, Snohomish  1115 13th St, Snohomish WA 98290 No controlled substances    360-568-4153
Stanwood Police 8727 271st St. NW, Stanwood WA 98292 – NOTE: Stanwood Police Department medicine take-back location is temporarily closed from December 10 through March 10,2015   Accepts controlled substances425-388-3199
Bartell Drugs, Stanwood 7205 267th St NW, Stanwood WA 98292   No controlled substances   360-939-2188
Sultan Police 515 Main St., Sultan WA 98294 Mon-Thurs, 10am-12pm and 1pm-4pm Accepts controlled substances425-388-3199