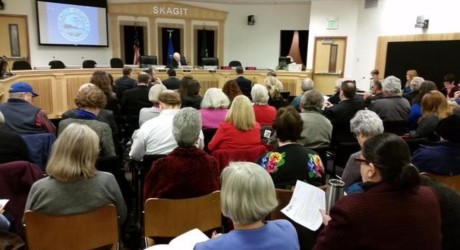 By Ashley Ahearn, KUOW
Shell Oil wants to build more tracks at its refinery in Anacortes, Washington, to receive oil by rail. At a packed hearing in Skagit County on Thursday, more than 100 people turned up to comment on the proposal.
Shell's refinery in Anacortes is the last of Washington's five oil refineries to apply for permits to receive oil by rail from the Bakken oil fields of North Dakota.
Skagit County had previously approved the necessary shoreline permits granting the go-ahead to Shell to construct expand rail at its Anacortes refinery to receive mile-long oil trains, six of them per week. Environmental groups appealed the decision, calling for a more comprehensive review of the potential health and environmental impacts.
The room was packed Thursday, when the Skagit County Hearing Examiner heard public comments pertaining to the shoreline development and forest practice permits necessary for Shell to proceed with its proposed expansion.
Roughly 15 oil trains already travel along Puget Sound each week, servicing the US Oil, BP Cherry Point, Phillips66 and Tesoro refineries.
"That's a lot of trains, with no studies whatsoever about human health impacts, chronic exposure, risks, all that sort of thing." said Matt Krogh of ForestEthics, which has raised concerns about the increase in oil train traffic in the region. "There's pent up frustration."
In November, a car in an oil train arrived at the BP refinery 1,611 gallons short, with an open valve and a missing plug, according to a report from McClatchy, a news organization.
There were 30 Shell refinery employees at the hearing, and six of them registered to give testimony.
The company says that the rail expansion project is not intended to increase the refinery's capacity but to partially replace crude oil that currently arrives by marine tanker.
"Shell is committed to following the permitting process and taking all appropriate measures to meet rigorous safety and environmental standards," said Tom Rizzo, Shell Puget Sound Refinery general manager, in an emailed statement. "Shell needs the ability to bring oil in by rail to ensure enough crude to keep the refinery viable so that it can continue to produce gasoline and other fuels for Pacific Northwest consumers, and to generate jobs, economic development and tax revenue for the local community."
The Skagit County Hearing Examiner will decide whether an environmental review must be conducted before final permits are issued for the Shell Refinery to build the necessary rail spur to receive oil trains.
The Army Corps of Engineers is also reviewing permits for the project.