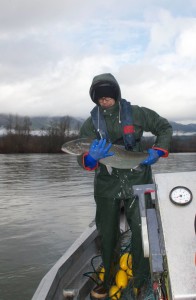 By Northwest Indian Fisheries Commission
It's the end of an era for Upper Skagit tribal fishermen as the last full return of hatchery steelhead arrives in the Skagit River this winter.
"Our ancestors gave up everything so that we could continue to fish in our traditional areas," said Scott Schuyler, natural resources director for the Upper Skagit Tribe. "Without hatchery production, we can't have a meaningful fishery."
The last full steelhead fishery is especially bittersweet for Schuyler, whose 14-year-old daughter just received her first tribal fishing card. "Maybe she'll be able to have one day of fishing a year," he said. "That's not a meaningful fishery."
Steelhead are a culturally important species that the Upper Skagit Tribe harvests for commercial, ceremonial and subsistence purposes. Historically, steelhead were available during the long winter months when other species were not available to feed tribal families.
Hatchery programs have been a part of fisheries management in Washington for more than 100 years, making up for lost natural production as a result of degraded and destroyed habitat. Guided by science, hatchery management in western Washington is carefully managed to protect the genetic health of wild fish. In the Skagit River, hatchery programs also provide mitigation for the ongoing effects of hydroelectric plants.
Last spring, the Wild Fish Conservancy sued the Washington Department of Fish and Wildlife (WDFW) over hatchery winter steelhead programs that used Chambers Creek broodstock.
"Hatcheries are under attack," Schuyler said. "Taking away hatchery programs leaves tribes under certain circumstances with a severely diminished or no opportunity."
The Upper Skagit Tribe, along with the Lummi Nation and Tulalip and Stillaguamish tribes, released a statement at the time of the lawsuit saying that the Wild Fish Conservancy "erroneously concluded that hatchery production, rather than the loss of habitat, is responsible for the depressed state of the Puget Sound Steelhead populations."
However, WDFW settled the lawsuit, agreeing to halt the release of Chambers Creek hatchery steelhead in all Puget Sound rivers but one, until the National Oceanic and Atmospheric Administration approves each program. The settlement also put a 12-year moratorium of steelhead hatchery releases in the Skagit River.
This year will be the Upper Skagit Tribe's last full season fishing for hatchery steelhead, with returns reduced starting next year, and gone by 2017.