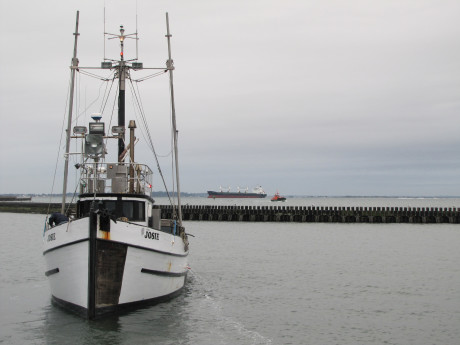 By Ahsley Ahearn, KUOW
HOQUIAM, Wash. — Grays Harbor, with its deep-water berths and fast access to Pacific Ocean shipping routes, has all the ingredients to be a world-class port.
In some respects, it already is. The Port of Grays Harbor once bustled with shipments of lumber from nearby forests. Next came cars, grains and biofuel. Now, local leaders are warming up to the idea of adding crude oil to the mix.
Roughly 3 billion gallons of crude move from the Bakken oil fields of North Dakota into Washington state by rail each year. As oil companies look for the fastest and most cost-effective way to get their product to West Coast refineries, proposals for new oil facilities are popping up around the region.
Washington has five refineries. Four are already receiving oil by rail and the fifth is seeking a permit to do so as well. There are six proposed train-to-ship oil facilities in Washington and two operating on the Oregon side of the Columbia River.
Three of those facilities could be built in Grays Harbor. That could mean more than 700 ships and barges arriving and departing each year and eight oil trains, empty and full, traveling through Grays Harbor County each day.
The proposed facilities present the community with some hard questions about economic growth, environmental risk and quality of life.
Oil On The Move
Forty-five permanent jobs would be created at the proposed Imperium and Westway terminals, with 103 estimated jobs in rail and marine operations, according to a report from the terminal companies. Information on the potential job creation for the third, and largest, of the proposed terminals is not yet available. That terminal is backed by US Development Group. It is in the discussion phase, according to the State Department of Ecology.
"These are projects that will provide jobs and economic development and tax revenue for Grays Harbor," said Paul Queary, spokesman for Westway and Imperium. "They will help support the existing refinery jobs elsewhere in Washington and they will bring domestically produced oil to U.S. refineries and help maintain and increase U.S. energy independence."
Imperium and Westway plan to move North Dakota crude on to refineries on the West Coast. U.S. law prohibits the export of domestically-produced crude oil. However, there's no such restriction on exporting crude brought in from Canada. Canadian crude is already moving through the region  and more could travel through new terminals in the future.
Canadian oil producers are eager to find ways to ship their product beyond North America, suggests Tom Kluza, global head of energy analysis for Oil Price Information Service.
"Really the biggest losers in the oil price slide have been the Canadians," he said. "They are compromised by their inability to move that to any customers beyond the U.S."
Despite the recent drop in oil prices, Kluza said the development of infrastructure needed to serve the oil boom in the North American interior — ports, rail capacity and pipelines —  is lagging behind the rate of oil production.  Canadian and U.S. oil producers need access to refineries and terminals in the Northwest, and the regional refineries need access to their product, particularly as output from Alaskan oil fields continues to decline.
"Whether [the Northwest is] the most hospitable is going to depend on the way the local communities and regulators look at the environmental consequences," he said.
'What's a culture worth?'
Thousands of Dungeness crabs rustle and clack as they're unloaded from the holds of fishing vessels at the Quinault Indian Nation's docks in Westport, at the mouth of Grays Harbor.
The Quinault reservation lies just north of Grays Harbor. Tribal members harvest crab and razor clams along the coast and catch salmon in the ocean and the Chehalis and Humptulips rivers. The tribe opposes the oil terminals. It says an oil spill from a ship or train could close shellfish beds or decimate fish populations. Almost a quarter of the tribe's 2,900 members are employed in the fishing industry. Ed Johnstone, fishery policy spokesman for the tribe, says the value of that fishery to the Quinault is impossible to quantify.
"What's a culture worth? What's a history and tradition worth?" he asked. "You can't put a number on it."
The Quinault tribe says its treaty-protected  fishing rights are threatened by the risk of an oil spill. Its leaders say they'll take legal action if necessary to protect the tribe's fishery.
Fawn Sharp, president of the Quinault Indian Nation, says her tribe's opposition isn't just about the threat of an oil spill. The global burning of fossil fuels threatens the Quinault's way of life, she said. Rising sea levels have forced the tribe to move part of its community inland. Last year the ocean broke through and flooded the lower village. The Olympic Mountain' Anderson Glacier, which feeds the Quinault River, has almost disappeared.
"Each area and each region has, I believe, a sacred trust and a sacred duty," Sharp said, standing beside tribal crabbers as they unloaded their catch. "When you are an elected official you need to make decisions that are based not only on the economics of a decision but the science, the culture, the history."
The Quinault and other area tribes have often been at odds with non-tribal fishermen. But the non-tribal fishing industry, which employs more than 1,000 people in the area, has joined  the tribes in opposing  the oil terminals.
'If I hear one more time that this place has great potential, I'm going to puke'
The population of Grays Harbor County hovers around 70,000. Its working-class economy was built on the timber and fishing industries. But today the unemployment rate is higher than the national average. The percentage of residents with a college education lags below the state average.
Al Carter has spent his entire life in Grays Harbor, working in the timber and manufacturing industries and serving as a county commissioner for eight years. He calls himself "an infrastructure guy" – always pushing for the things that make a community appealing to business development and economic growth.
"Sewer, water, roads, bridges, railroads, public safety, public transportation," Carter counts out on his fingers. "Those are the things that make a community grow and if you build those things, then people will come to those places."
Carter says it's been a bumpy ride since the timber and paper industry here crashed. A few years ago the Port of Grays Harbor was courted by the coal industry to build an export terminal.
"If I hear one more time that this place has great potential, I'm going to puke," Carter said, chuckling. "A new group of people come to town every year with a good idea, like, 'Here's what we should do!' and my eyes roll back in my head. It's like, 'yeah, OK. Here's your bucket and your shovel.'"
Carter's not anti-oil or fossil fuels. He's concerned about what hundreds of oil trains and ships each year will do to the identity of his community and its potential for future development.
"That much oil, all we're going to be is an oil terminal. They're going to dominate our landscape," Carter said. "Nothing else is going to come here. Nobody else is going to want to come here. There won't be any room for anything else."