Hibulb's Rediscovery Program offers new gardening class to connect Tulalip's ancestors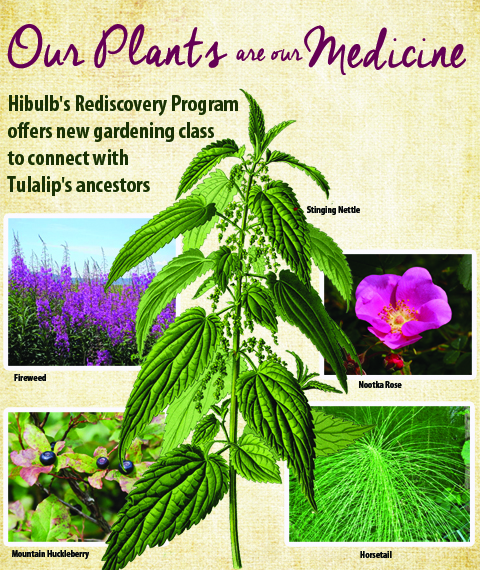 By Micheal Rios, Tulalip News 
The Hibulb Cultural Center and Natural History Preserve's Rediscovery Program is offering Tulalip tribal members an exciting new class to reconnect with their traditional culture. The class is part of a series of classes entitled 'Native Plants and Medicinal Herbs' that will be ongoing during the traditional harvesting season, early spring to late fall. The series of classes will focus on teaching tribal members how to collect, garden, harvest, and process native plants and herbs that are indigenous to the Tulalip region. The first of a full series of native plant gardening classes will take place Sunday, March 15, starting promptly at 9:00 a.m. and ending at 4:00 p.m., at the Center's facility classroom.
"Our plants are our medicine. They nourish our bodies and feed our spirit," says Inez Bill, Rediscovery Coordinator. "We want to see our people gardening and harvesting the plants and herbs that our people have used historically. So we are starting this brand new series of classes that will help pass on the values and teachings of our ancestors. Hopefully, by taking the classes, our people will begin to use these plants at their homes and grow them in their gardens for their own use."
Over the past four years, the Rediscovery Program has hosted its 'Gardening Together as Families' classes that emphasized teaching our tribal membership how to grow their own organic vegetable gardens. The Rediscovery Program staff think that the time is right to shift from a general theme of organic vegetables to one that specifically tailors to the traditional gardening customs of our Tulalip ancestors. By reintroducing the Tulalip people to native plants and herbs that were once used by our ancestors for generations.
"We've been doing the 'Gardening Together as Families' classes for four years now. That was an opportunity for people to come get hands-on experience growing their own organic vegetables. Now, we are able to shift the theme of our gardening classes to accommodate the needs of our people," explains Rediscovery staff member Virginia Jones. "We want to give the people an opportunity to learn about the uses of Tulalip native plants and to grow them at their own homes."
Throughout this new series of native plant gardening classes, there will be a primary focus of working with and getting familiar with the many uses of five major native plants; the stinging nettle, fireweed, giant horsetail, the Nootka Rose, and mountain huckleberry. There will be other native plants worked with as well, to supplement the uses and knowledge that come from working with the five major native plants.
"These plants we will be working with are all traditional food sources. They are something that are ancestors would have had, and so we are really fortunate to have them still available to us," says Jones. "Today these foods are no longer a part of our everyday diets. We are trying to reintroduce these native plants back into the diets of our people. We want to reach our people on that level because these plants were used as foods that healed us and kept our bodies full of all different types of nutrients that our bodies needed."
To participate in the first class in this new series, to be held March 15, the Rediscovery Program staff ask that you please RSVP ahead of time by calling Virginia Jones at (360) 716-2635 and leave a brief message with your name and how many family members will be attending with you. The initial class will be accepting 20 tribal member participants, so RSVP your spot as soon as possible.
Also, all those who will be participating in the native plant gardening class should remember to bring garden gloves and paper bags.
"Working with native plants is our culture," says Bill. "It's a delicate balance of going out and being with nature, gathering plants in prayer and working with them in a respectful way. We are one with nature at this time."
Contact: Micheal Rios, mrios@tulaliptribes-nsn.gov