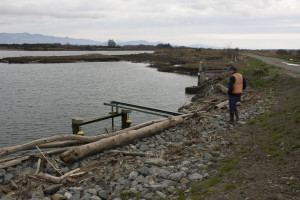 By Northwest Indian Fisheries Commission
Farming interests in Skagit County often seem at odds with salmon habitat restoration, but an ongoing project by the Swinomish Tribe aims to show that it doesn't have to be that way.
The tribe owns the land known as the Smokehouse tidelands along the Swinomish Channel south of the Swinomish Casino and Lodge. Historically, the land was part of a system of channels that served as estuarine rearing habitat for Skagit River salmon. When the Skagit Valley was settled, the tidelands were diked and drained for agricultural use.
Since 2005, the tribe has restored tidal flow and improved fish passage to the channels by replacing four traditional flap gates with self-regulating tide gates. In addition, three culverts have been replaced by bridges, and several have been removed.
"The big advantage is for fish, but the tide gates also have improved drainage capacity," said Todd Mitchell, Swinomish environmental director. "As more water comes in, more water goes out. We don't have the ponds of standing water that you see on other farmland after heavy rain."
Fifty-foot buffers have been planted between the channels and the farmland. Some of the land will remain in agricultural use, with the tribe leasing it to farmers and monitoring for saltwater intrusion.
"Continued farming provides income for the Swinomish Tribe," said Steve Hinton, restoration director for the Skagit River System Cooperative, the natural resources extension of the Swinomish and Sauk-Suiattle tribes. "The goal is to see that agriculture and salmon can not only survive, but thrive in the same space."
The long-term plan is for riparian corridors, tidally connected channels and estuarine wetlands to exist alongside agricultural production.
"Resolving the differences between these competing uses of the resource are essential to significant and meaningful restoration of chinook rearing habitat across the Skagit delta," Hinton said.