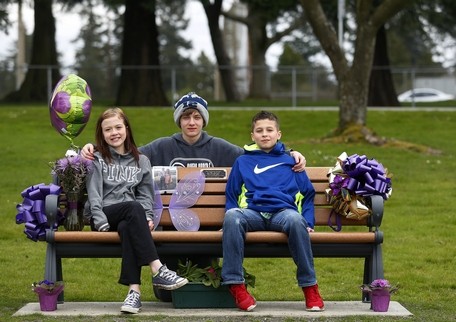 By Andrea Brown, The Herald
EVERETT — This Tuesday would have been Gia Soriano's 15th birthday.
Her name should be on a learner's permit. Instead, it's on a memorial park bench.
Gia Christine Soriano was among the four students fatally shot by a classmate in the Marysville Pilchuck High School cafeteria on Oct. 24. She died two days later.
A bench was recently installed in her honor in Everett's Legion Memorial Park, overlooking Port Gardner Bay.
It's a place where her family, her friends and the community can come to remember the sweet girl with the radiant smile.
An intimate birthday gathering is planned March 31 at the bench, which sits about 100 feet from Gia's paternal grandparents' home bordering the park.
"When Gia died, I thought right away we are going to get a bench," said grandmother Elaine Soriano, who led the project. "I know how much people enjoy coming for the view. I wanted it to be close to my house, so when I get old I can still get to the bench."
She ordered the bench from Everett Parks and Recreation Department and paid the $3,500 herself. Donations reimbursed her the cost.
Many of Gia's close relatives live in Everett, where the family has strong ties.
"I drive by here all the time on my way to work," said Gia's father, Bryan Soriano, a longshoreman like his father. "At first it was hard that it was here. You show up and it's real. It just reminds you. Just like going to the cemetery is hard, too. It's still fresh."
Embedded in the concrete base of the bench is a tiny silver angel. A plaque has an inscription with Gia's initials framing the sentence: "God's Incredible Angel."
The bench is a bittersweet monument.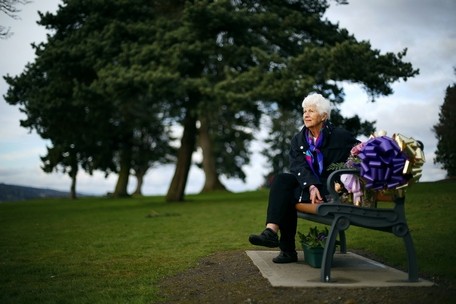 "It gives some solid ground to how we're feeling," said Gia's mother, Susan Soriano. "It's a statement and it's here for life, where she isn't."
The park is a calm spot with a backdrop of sparkling waves and multicolored skies.
"A soft-spoken place for a soft-spoken girl," her mom said. "Because that's what she was, so I think it's perfect."
The bench looks festive, with big shiny bows and colorful flowers.
It contrasts with the aching void that family members face trying to cope with the loss of Gia and the violent way her life was taken from them.
"Everything is different now," said Gia's mom.
"Everything is hard," said Gia's aunt, Gay Soriano. "I was registering my son Titan for high school the other day and I just started bawling in a room full of people. You can't get it out of your head. It's turned everything and everybody upside down."
"It ruined our family," said Gay's daughter, 11-year-old Gabby, who idolized Gia. "It made a gap and it did that to the other families, too. It makes me really angry and mad and sad."
Gabby sees a grief counselor and speaks openly about her anguish and anger.
"The boys, on the other hand, I worry about," Gay Soriano said. "Boys don't say much. They're thinking about it. They just don't verbalize it like Gabby."
After the photo session on the bench, Titan and Gia's brother, Anthony, 11, raced around the park and climbed a tree.
Gabby soon joined them, wearing Gia's gray "PINK" sweatshirt.
Gia's gravesite is in Evergreen Cemetery.
"My daughter and I go to the cemetery a lot," Gay Soriano said. "This is a better place for people in the community and her friends from school to gather and remember her. It's more of a grounding place. Where it's located and how the sun sets on it every day is kind of a special thing."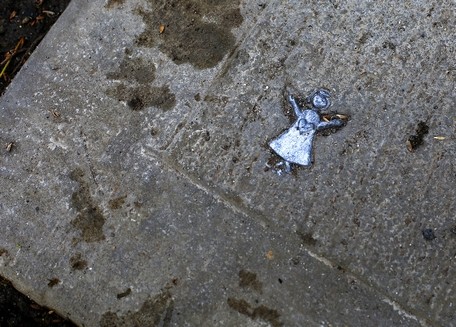 Elaine Soriano and her husband, John, a retired longshoreman, moved to the house adjacent to the park 25 years ago. They wanted a place for the generations to gather. It didn't get better than having a park right outside the door to play and picnic.
Gia's dad, Bryan, is the youngest of the couple's six children. All graduated from Everett High School, as did Elaine and John.
"Giovanni" is John's birth name, but he got it legally changed when he was 12 for something less Italian and more mainstream.
"All the kids think Giovanni was a neat great name," Elaine Soriano said. "So Gia was going to be Giovanni if she was a boy."
There are other memorial benches in the park, but Gia's is closest to their home.
The grandmother picked the spot. "We'd have leaf fights and walk through the puddles over there, and just run around," she said. "We had so much fun."
Elaine Soriano laments it was supposed to be her name on the bench, not her granddaughter's. "I always told my children I would like a bench in the park," she said.
The park bench helps her carry on. "Gia would say, 'Ohhh, this is neat.'"
It's in plain view from her living room. She keeps tabs on who's visiting the bench and freshens the flowers. When she's not home, an angel statue faces out the window to keep watch.
"I'm going to get a little cute mailbox and let people leave a note for Anthony. Or Grandma Elaine," she said. "A metal mailbox to hang on the side of the bench. I guess I have to ask the parks department first. I'll tell them I'll just tie it on with ribbon."
The house is a shrine to Gia, with pillows and ribbons in purple, the teen's favorite color, and numerous photos of her stages of life. A favorite is of Gia in her dress at the homecoming dance days before the shooting.
"We have 15 grandchildren," Elaine Soriano said.
She includes Gia in the count.
Gia's childhood drawings and Baptismal dress hang along the hallway. She is ever-present.
The park bench on Alverson Boulevard is about a mile from Providence Regional Medical Center Everett where Gia was rushed after the shooting that ended hers and the other young lives at the lunch table that day. Zoe Galasso, 14, Andrew Fryberg, 15, and Shaylee Chuckulnaskit, 14, also died, as did the shooter, 15-year-old Jaylen Fryberg, who killed himself. Nate Hatch, 15, is the only survivor. All the victims were shot in the head.
"There was nothing they could do. We knew that from day one. They gave it to us straight up," Gia's father said.
During their bedside vigil at Providence, her mother showed Everett neurosurgeon Dr. Sanford Wright Gia's school homecoming photo.
"I wanted him to see what she looked like," she said, "because she looked so different in the hospital."
The parents praise the medical team.
"We couldn't have been in a better place. I'm glad we didn't end up down in Seattle," Bryan Soriano said.
"The reason we kept her alive for a few more days was for her organs. We're glad we donated the organs because we got a letter that was just beautiful. It told us where all her organs went. It didn't say who, their names, it just said their gender and age and what they received. Her liver. Her kidney. Her lungs. A 10-year-old got her corneas, so he can see now.
"They couldn't use her heart. That would have been the best thing to give somebody, was her heart."
Andrea Brown: 425-339-3443; abrown@heraldnet.com. Twitter: @reporterbrown.
Friends of Peace Scholarship
A scholarship at Everett High School has been established in memory of Gia Soriano and Zoe Galasso, two students killed Oct. 24 in the Marysville Pilchuck High School shootings.
The Friends of Peace Scholarship was created by friends and former teachers in honor of the students' parents, Bryan and Susan Soriano and Michael and Michelle Galasso. The Sorianos and Michelle Galasso are alumni of Everett High.
The scholarship will be granted to an Everett High graduating senior who has overcome a traumatic life experience and who is interested in pursuing more education after high school.
The scholarship will be managed by the Everett Public Schools Foundations. Donations may be sent to Everett Public Schools Foundation, P.O. Box 3112, Everett, WA 98213 or online at epsfoundation.org, referencing the Friends of Peace Scholarship.
For more information, send email to jlevin@everettsd.org or call 425-385-4693.