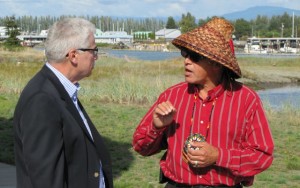 By Ashley Ahearn, KUOW
The Swinomish Tribe has filed a lawsuit against BNSF Railway to stop oil trains from traveling through its reservation.
BNSF train tracks cross the top of the Swinomish Reservation in Skagit County. In recent years they've been used to move oil from North Dakota to two refineries in Anacortes.
In 1990 BNSF and the Swinomish reached a settlement that required BNSF to regularly update the tribe on the type of cargo moving through the reservation. It also limited traffic to two 25-car trains per day.
Now, the tribe says BNSF is running several times that many train cars through the reservation each day (an estimated six oil trains of more than 100 cars per week).
The Swinomish Tribe says BNSF does not have permission for the increased oil train traffic and that the company is putting the tribe's way of life at risk.
"We told BNSF to stop, again and again," said Swinomish Chairman Brian Cladoosby. "Our signatures were on the agreement with BNSF, so were theirs, and so was the United States. But despite all that, BNSF began running its Bakken oil trains across the Reservation without asking, and without even telling us."
The lawsuit was filed in U.S. District Court in Seattle. It seeks to stop BNSF Railway from moving oil through the reservation.
BNSF spokesperson Courtney Wallace says the company has received the complaint and is reviewing it.