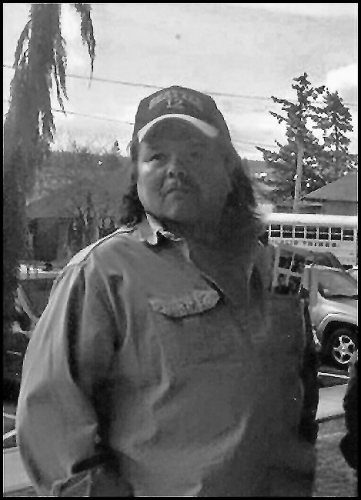 Clifford George Enick, 56, of Tulalip passed away unexpectedly on April 11, 2015.
He was born June 11, 1958 in Everett, Washington to Gerald and Maryann Enick (Moses). He was a commercial fisherman and he served his tribe as a gravedigger.
He is survived by his daughter, Tiffany Stewart-Enick; son, Harley Enick; siblings, Gerald John Enick Jr., Francis Eugene Enick, Michael Curtis Enick, Darrell Dan Enick, Harold Leslie Enick, Delores Gay Bill, Lynn Sheryl Selam and Howiann Margaret Enick; grand-children, Nakayea Stewart, Khyro Stewart, Anthony Gepner, and Keydron Enick; adopted mother, Margaret Greene; several aunties, uncles and cousins.
He was preceded in death by his parents, Gerald, Maryann Moses, Louie Moses; his son Johnny Enick.
Visitation will be held Tuesday, April 14, 2015 at 1:00 p.m. at Schaefer-Shipman with an interfaith service at 6:00 p.m. at the family home. Funeral Services will be held Wednesday at 10:00 am at the 1910 Shaker Church with burial to follow at Mission Beach Cemetery. Arrangements entrusted to Schaefer-Shipman Funeral Home.