By Lynne Valencia, KUSA-TV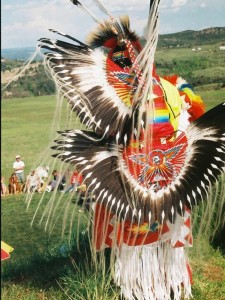 KUSA – Tesoro's annual Indian Market & Powwow features premier Native American artists from all over the country, primarily with roots in Colorado, Arizona and New Mexico.
The 15th annual Indian Market & Powwow is on Saturday, May 16 and Sunday, May 17, 2015 on the grounds of The Fort at 19192 Highway 8 in Morrison.
The event runs from 10 a.m. to 5 p.m. and features American Indian art, cuisine, dance, music and hands-on educational activities for kids.
Tickets are $5 for adults and $3 for students with a valid ID. Seniors, Tesoro members and children under 12 are free.
This year's Indian Market & Powwow will feature the art of:
• Pahponee – Woodlands-style traditional and contemporary pottery
• Eddie Morrison – contemporary wood and stone sculptures
• Nelson Garcia – hand-designed and handmade jewelry
• Carol Snow – pen and ink, watercolor and oil paintings
• Lynn Burnette Sr. – watercolor, oil and acrylic paintings, bronze sculptures and more
New artists include Karen-Lyne Hill of the Onondaga Nation Snipe Clan, who is skilled in the traditional form of Iroquois raised bead work and Ronnie-Leigh Goeman. Goeman grew up on the Onondaga Nation of the Iroquois Confederacy located in Upstate New York. She began making baskets as a teenager and, as she grew older, many traditional Iroquois women taught her the importance of balancing old traditions with individuality.
Over 50 inter-tribal American Indian dancers and drum groups will share their heritage through traditional dance and regalia.
Alongside celebrations of art, dance and other cultural heritage, Tesoro's Indian Market & Powwow honors outstanding American Indian Veterans each year. This year's honoree is Bob Iron, Pawnee-Crow. Iron served in the United States Army, SP4, from 1968 to 1971 and is a Vietnam combat veteran. He is a treasured member of the Indian Market & Powwow family – his family drum group, Pawnee Spotted Horse, has performed at Indian Market & Powwow for many years. Iron will be honored for his service and sacrifice in a ceremony during Sunday's festivities.
For more information: Tesoro Cultural Center