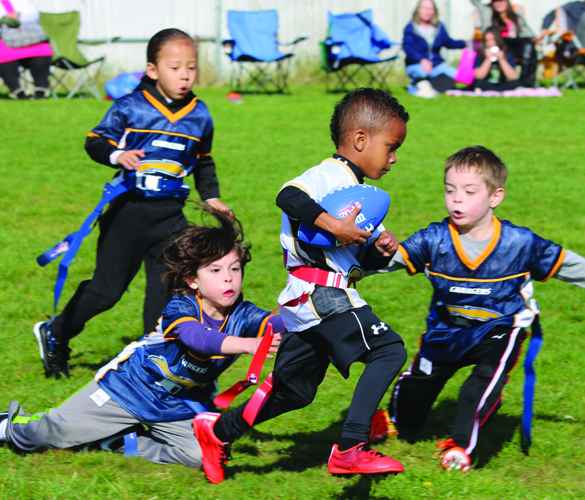 The Tulalip Boys & Girls Club flag football team the Chargers, ages 5 to 6, took on their first opponent on April 18, with a game against the Saints from the Everett Boys & Girls Club. No score was kept but the Chargers kept the Saints on their toes and performed beyond expectations. Great Job Chargers!
Six spots are still available on the Chargers team. Head coach is Deyamonta Diaz and assistant coach is Selena Frajman. Practices are every Thursday, 4:30 -5:30 p.m., and Friday 5:30-6:30 p.m.
Tulalip Boys & Girls Club features five flag football team, one t-ball, one coach pitch and two volleyball teams.
Flag football coaches are Michael Hunter, Aletha Tatge, James Madison, Jay Fryberg and Issac Elliot. T-ball coach is Charlita Davis with Gregory Moses coaching for coach and pitch. Jamie Orth and Becca Marteney coach volleyball.
If you are interested in having your child join any of the available teams, please contact Tori Torolova at 360-716-3400.