By Kim Kalliber, Tulalip News 
Meet Jennifer Tracy, an up-and-coming artist from Tulalip, trying to break into the mainstream and leave that whole working nine to five thing behind her.
During a leave from work due to health reasons, Tracy decided to reconnect with her culture through painting, and her new career was launched.
A self-taught artist, Tracy's Native background and good business sense help to keep her small business growing while she formulates her unique, artistic style.
Jennifer's mother is Sandy Tracy, and her grandparents are the late B. Adam and Marge Williams, all Tulalip Tribal members.
Tell us about your introduction into the world of art? 
I have always had an interest in learning about the world we live in. I found, for me, seeing the world not only by my personal experience, but also by learning about people through their culture helped me to see the beauty in all things. One of the best things about growing up in Tulalip, I was able to live in a unique cultural area.  I was able to attend pow wows, salmon ceremonies, and I got to dance in the Johnny Moses Dance Club to name a few things. As a child I would listen to stories passed down by our elders, which taught me a bit about the life of our ancestors, our connection to spirit and nature.
What is the primary medium in your art? 
I primarily paint with acrylics, but I am incorporating other mediums as well, such as oil paint, watercolor, and spray-paint. I paint on canvases, wood rounds, paddles, drums, ornaments and cloth. I basically am open to trying new things as often as opportunity allows.  I also taught myself to bead, which is a lot of fun.
What is your creative process like?
I do a lot of "research" throughout the year. I visit every museum, gallery and art show that I can find. I get inspired by different types of art, seeing what is being done in other genres. I get a lot of input from people as well, as far as what it is they like, what they would like to see, things they think would make great pictures. As I begin, I have an animal or two to concentrate on, I picture in my head what I would like it to look like, and then I do some sketches. When it feels complete I begin the process of picking a color scheme and then paint.
Creative blocks can be an artist's nightmare. Have you had them and how do you get the creative juices flowing again? 
Oh yes I do get creative blocks from time to time. There have been times when I cannot think of a thing, or a design just doesn't feel like it will ever be done, when this happens I get out in nature, clear my head, or get some exercise. Remind myself that it can be finished; it will look right when I am done. I really try not to let my own thinking get in my way.
What prompted you to leave your career and strike out as an independent artist? 
After high school I had the opportunity to work for the casino, which was basically where I stayed for the next 18 years. During this time I slowly felt more and more disconnected from my culture. With working the weekends, odd hours, and overtime I had very little time or energy for other things. In 2008 I had a surgery, which I had to take a couple weeks off work for. During this time I decided to reconnect in my own way to my culture. I focused on painting native design, and it was not easy at first. I have never taken an art class so when people ask about techniques and specifics about how I come up with my drawings it is a little difficult to answer. I see a design in my head and go from there. I keep a pencil and a ruler on my work table for sketching my designs.  My style tends to be a mix of traditional and modern design.
I began selling my artwork in 2009 to family and friends.  Then I began to sell at the Annual Christmas Bazaar and local pow wows where I was able to really get my work out and get feedback from more and more people.  I left my job in September 2014 to become a full time artist. Super scary to take the leap of faith that I could really do this. My money went faster than I had hoped but I really felt a calling that this was what I was meant to do.  Spiritually this has helped me grow and I get to express a part of my culture to others.
Being a full time artist is not easy work by any means, but in a way this pushes me to work harder.  Money is still inconsistent but I have my work in a few gift shops, including the Hibulb museum here at Tulalip, Highway 2 Collectibles and Imports in Sultan, and Moonfrye Metaphysical in California. I still am a vendor at pow wows and bazaars, I started a web page on Shopify and on Photoshelter, and I do special requests for friends when I have the chance.  I also offer items for sale on Facebook , on my personal page and on my Art Z Aspects page.  I have some designs on display on an online gallery, Touch Talent, which has a large following worldwide. My Orca design was featured as the Editors Pick in January.  Right now I am really working on becoming established as an artist. Once established, I would like to work towards owning a gallery.
How do you come up with a profitable pricing structure for your art?
For pricing on my prints I got help from an art consultant I had met. She gave me some real good advice about pricing, some info on local events, and wholesale pricing for businesses.
On my canvases, I had to figure in total cost to me and time spent. Then researched other Native artists and their pricing, originals versus series, different syles, ect. I decided I would keep my work on the low side of pricing because I would rather get more of my work out to people as opposed to waiting for a sale once in awhile.
For online sales the hard part is figuring out the cost of shipping.
What's the coolest art tip you've received?
A few years ago at a gallery event I met this artist from China; his work was great. Before I left I got to talk with him and showed him some of my work. He told me if I wanted to be a professional artist, do it. Draw or paint something everyday. It does not matter what you draw or how much, just do some art everyday. If you only draw once in awhile you have to retrain yourself to do what you already knew in the first place.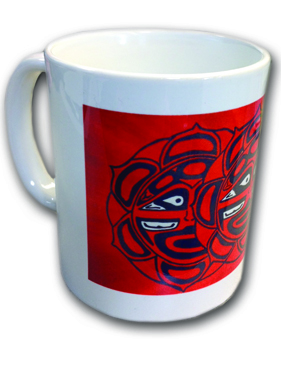 Tracy's artwork can also be found in prints and housewares, like coffee mugs. View Tracy's art at the following websites:
Facebook: Follow Art Z Aspects at www.facebook.com/ArtZAspects and keep updated on new designs and upcoming events.
Photoshelter: http://artzaspectsjentracy.photoshelter.com
Shopify: art-z-aspects.myshopify.com