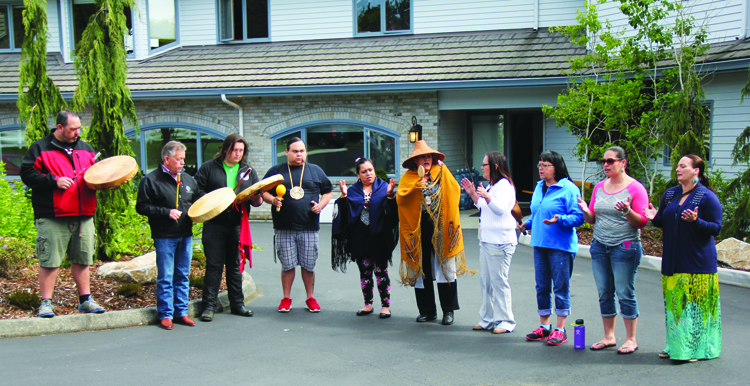 by Micheal Rios, Tulalip News 
The much anticipated grand opening ceremony of Tulalip's qʷibilalʔtxʷ Healing Lodge was held on Friday, May 1. Tribal members, Healing Lodge staff, and community members traveled to the Stanwood property to attend and observe the cultural blessing and welcoming songs, heartfelt Board of Director speeches, and ribbon cutting ceremony that officially marked the grand opening. Tulalip has now decisively chosen to take the next step in fighting the addiction problems in the Tulalip community by providing a transitional home facility for tribal members who are seeking a sober and clean lifestyle.
"I want to welcome you all here to this beautiful Healing Lodge of ours," said Diane Henry, Recovery Home Manager, prior to the ribbon cutting. "I'm going to get emotional because it's been a long time and we've been working so hard to get these doors open. We've worked really hard to try to uphold our values as a tribe, to bring in the programs we want to offer here that can contribute to our community and help those folks who come here to transition back home in a good way. We want to have this facility truly being what that name means, Healing Lodge. It's a beautiful facility and this truly is a great day for all of us."
For years now, the tribal membership has been pleading for more services located on the reservation to combat the steadily growing disease of addiction. Instead of sending our members to off-reservation facilities that are unable to relate to their needs culturally and spiritually, they should be able to stay close to home while receiving healing and recovery treatments that they will not only respond to, but that can become part of who the person is at their cultural and spiritual core. The Healing Lodge is the first of many facilities of its kind that we hope to see to built to meet the needs of the people.
"Today, more than ever, addiction is so real in our community," explains Tulalip Treasurer Les Parks. "It's an epidemic, not only in our community, but in this entire country. What better way to help our addicted members than to bring them into a place of culture and healing. I am so glad. It warms my heart that we no longer have to send our members to the outside world to transition back into our community. We are sending them to our healing home with our cultural values. This is transitioning our members back into the community. Everything that being Indian means to us rests here in the property. Today is here, it is a good day."

The years of preparation and development that has gone into the Healing Lodge has been meticulously engineered to provide a culturally sensitive transitional home. This home provides a safe, secure, supportive and stable environment for Native Americans seeking to maintain a clean and sober lifestyle. The Healing Lodge's vision is to extend recovery within the Tulalip Tribal community through quality evidence-based practices, existing programs and continued expansion.
In following the traditions of our Tulalip ancestors, we are ensuring that tribal members are valued and cared for. The Healing Lodge will offer a unique blend of traditional Native, western, and eastern medicines combined with social and psycho-educational modalities of treatment to serve our Native people. Each Healing Lodge client will be adapted into their own client-specific program that is culturally woven with a holistic approach through Red Road to Wellbriety teachings, taking circles, and teaching of Native American drumming and singing. Of course there will be on-site Red Road Recovery meetings and AA/NA outside meetings that will be further supplemented by traditional smudging ceremonies, teachings of equine therapy with on-site horses, and healing through the on-site sweat lodge.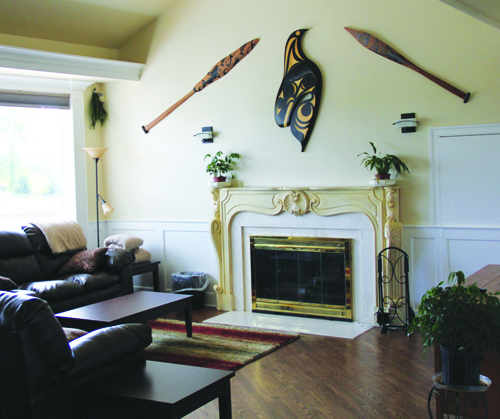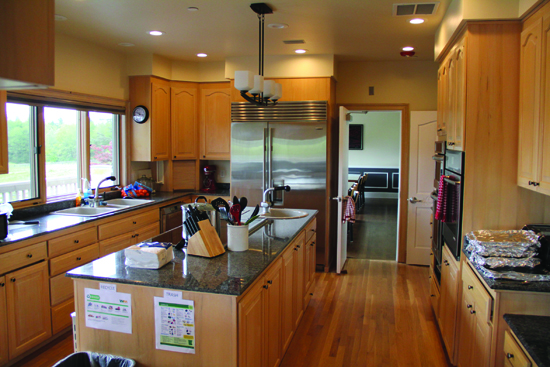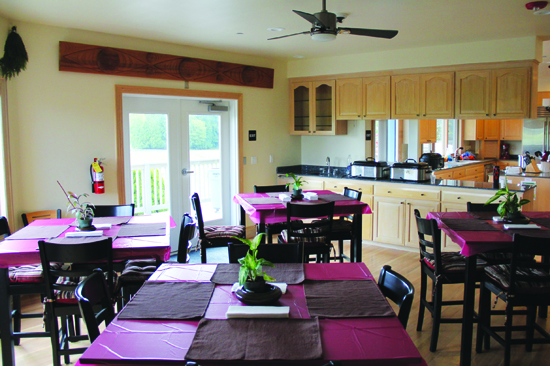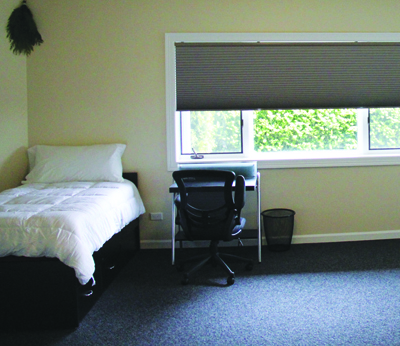 Recovery is a life-long process and involves examining personal identity and beliefs, adjustments and changes to family and social relationship, and changing lifestyles to accommodate sobriety. Tulalip Behavioral Health understands that recovery is more than just abstaining from the use of alcohol and drugs. There will be a variety of classes offered to rebuild lives with traditional value. Healing Lodge residents will have an opportunity to learn gardening, Native arts and crafts, and traditional round drum making and songs. Additionally, personalized classes will be offered for the essential life skills to include financial management, anger management, self-esteem building, and education of the disease of drug addiction and alcoholism, classes for relapse prevention, exercise, meditation, and nutrition.
The Tulalip Board of Directors support offering Native American style services to promote healing of the emotional, physical, spiritual and mental well-being of every member who chooses to become a resident of the Healing Lodge.
"It's truly about all of us as a collective," says Board Member Theresa Sheldon. "It's not about sending one person away and making them get better and figuring out how to function back into the community, but about us as a collective getting better and learning how to function together in a healthier manner. So I'm truly thankful for those reasons today, that we are here and will continue to support each and every member of our community. This is just our first step in becoming healthier as a community. I know it's going to be fabulous and it's going to have great, great results for our people."
The Healing Lodge hopes to be the first huge step, of many yet to come, that will provide the Tulalip Tribes with the resources and services necessary to fight the ever-growing addiction epidemic that plagues so many of our people. The three story Healing Lodge includes a dedicated third floor for eight female residents, a dedicated first floor for eight male residents, and a second floor common area that includes a top of the line kitchen, dining room, meeting rooms, and a library. Also, included on the property are two barns, spacious fields where the equine therapy will take place, garden beds, and scenic walking paths.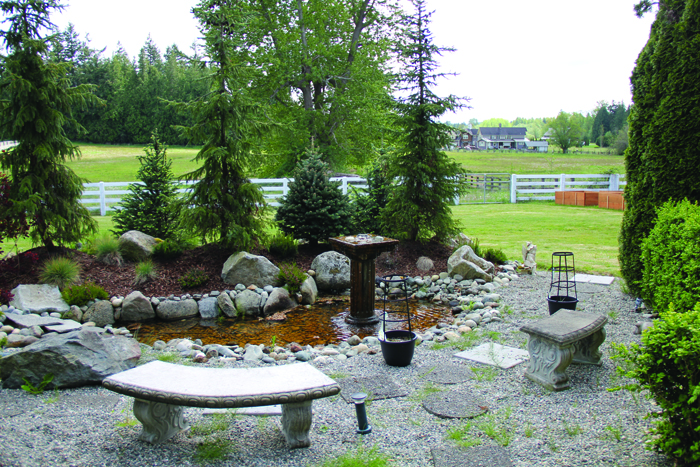 "I really want this to be a place of healing for our people. A place where they can go to recover from their addictions and to be able to transition back home with a new set of skills," says Diane Henry. "Sometimes people need more than just learning how to cook and clean, then need a place that can help them figure out how to live a sober lifestyle. Some people have never seen that in their own families. They may have come from families who've battled addiction all their life. Addiction become a normal routine. How do you get out of that? How do you stop that cycle of addiction? This place is that next step after treatment that addresses those issues."
_________________________________________________________________
Equine Therapy for Lodge Residents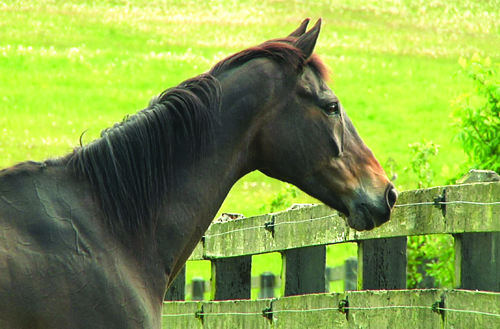 One type of therapy offered at the Healing Lodge is Equine Therapy. This type of therapy involves the use of horses by professionals to help with the recovery of patients that are affected by behavioral problems, substance abuse, depression, anxiety, autism, traumatic brain injuries, post-traumatic stress disorder, relationship needs and others. When participants interact with horses, it allows them to learn about themselves when they are learning basic equestrian or horse training commands. Some positive benefits or results of equine therapy are trust, boundaries, spiritual connections, increased social skills, and self-confidence.
Pam McMahon, the barn manager for the Healing Lodge, said that participants receiving equine therapy will be "learning life skills to help them adjust back into society with a different perspective."  She said that anytime you spend time around horses, it tends to soothe the soul. It helps people see a better way of life and develops better relationships because "horses tend to mirror the inner feelings of people", which will be effective in showing the professionals the feelings, behaviors and attitudes of the participants.
_______________________________________________________________________
Art at the Lodge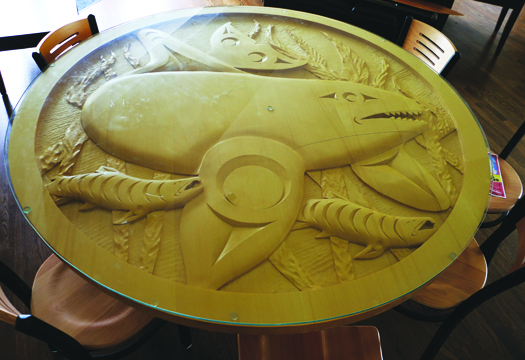 Rare, one of a kind artwork by national and local artists can be found on display at the Tulalip Healing Lodge. And where some of the artwork came from is a curious approach to decorating.
Paddles and drums by unknown artists were rescued from a local Marysville pawnshop, along with a few prints by Michael Gentry, a Cherokee painter whose work has been purchased by U.S. presidents and is known for his Native portrait paintings.
Many of the larger art pieces were commissioned for the Healing Lodge and crafted by renowned Tulalip carvers, Joe Gobin and James Madison. Large carved cedar tables in the common areas tell traditional Tulalip origin stories, such as Madison's salmon table that depicts our people's history with Big Chief Salmon.
Incorporating pawnshop finds with newly crafted art may be a bit unusual for decorating, but Healing Lodge staff couldn't have been happier with the outcome of unique artwork that completes the Lodge.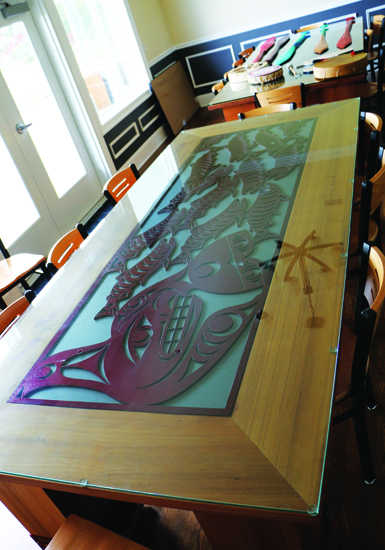 By Tulalip News reporters Mara Hill and Brandi N. Montreuil contributed to this article 
Contact Micheal Rios, ,rios@tulaliptribes-nsn.gov