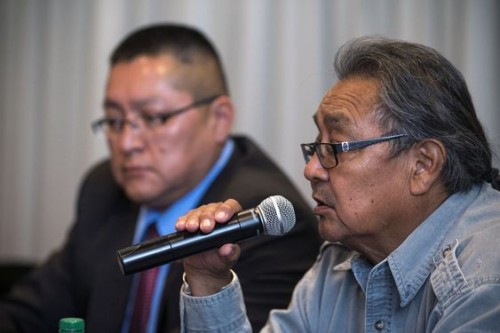 By Ryan Van Velzer, The Associated Press

PHOENIX — Hopi tribal leaders and Arizona's members of Congress are asking U.S. law enforcement to stop the sale of about a dozen sacred Hopi artifacts at a Paris auction house in June.
The Hopi Tribe contends the auction house is illegally selling the spiritual objects, known as Katsina Friends, and is urging U.S. Department of Justice and the FBI to help recover them. The items resemble masks and are used during religious ceremonies and dances to invoke ancestral spirits. They are communally owned, rarely displayed and never supposed to leave the reservation.
This is the sixth time the French auction house, Estimations Ventes aux Encheres, has sold objects sacred to Native American tribes. It has argued that the items legally belong to collectors, and a Paris court has ruled that such sales are legal.
Rep. Paul Gosar, R-Ariz., joined Hopi Chairman Herman Honanie on Wednesday to speak about the difficulties the Hopi Tribe has had in repatriating the sacred objects.
"It is appalling that a French auction house believes it's acceptable to profit off the sale of the sacred Katsina Friends," Gosar said.
Arizona's congressional delegation sent a letter last week asking the Justice Department and the FBI to take immediate action to prevent the items from going to auction June 1 and June 10. The U.S. government has no legal authority to stop the auctions, but Gosar said treaties with France could allow the U.S. to put pressure on the French government to act.
The Hopi Tribe has tried to prevent the sale of the objects since 2013. The tribe has sued three times in French court, but judges have dismissed the lawsuits because France lacks laws to protect indigenous people, unlike the U.S.
The Hopi Tribe views selling the items as sacrilegious and offensive, Honanie said.
"This is a big affront to the Hopi people," he said. "We must do everything that we can to stop these auctions."
In April 2013, a Paris court cleared the way for the sale of about 70 masks for some $1.2 million, despite protests and criticism from the U.S. government.
In December of that year, the Annenberg Foundation, a family-run charity, bought more than 20 Hopi and Apache items and returned them to their tribal homes.
The Hopi Tribe has filed two appeals with a French governmental agency regulating auctions, but the auctions of the items are set to take place before the appeals will be heard, said Pierre Ciric, an attorney representing the Hopi Tribe.
"So we are basically chaining up these cases to build a more favorable route on appeal," Ciric said.