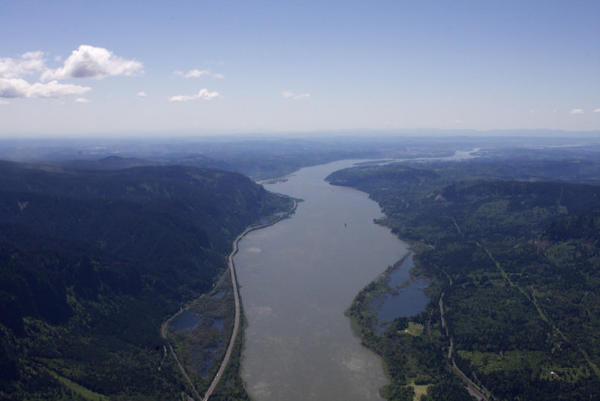 By CONRAD WILSON & TONY SCHICK, KUOW.org
A new oil refinery is the last thing you might expect Washington Gov. Jay Inslee's administration to be courting. After all, Inslee has developed a national reputation as a champion of curbing the use of fossil fuels.
And yet, Inslee's administration has worked for months to facilitate such a project along the Columbia River. A Texas-based energy company wants to site a combined crude oil and biofuel refinery in Longview, Washington. The company's goal is to capitalize on low carbon fuel standards championed by West Coast political leaders, including Inslee.
The refinery is a project Inslee could have the final say in approving.
Inslee is a politician on a tightrope: He's cultivating the reputation of a national leader on climate change policy. And he's also the head of a government that is working with businessmen whose project calls for three trainloads of North Dakota crude oil to be hauled into his state each week by way of the Columbia River Gorge.
Riverside Energy's plans for the 45,000 barrels-per-day refinery first surfaced publicly in April.
Since then, Inslee has said publicly that he knows next to nothing about the project.
"Have not heard much about it other than what you have reported in the media," Inslee told reporters when asked about it at a May 28 news conference.
Emails obtained through a public records request by OPB and EarthFix tell a different story when it comes to Inslee's administration. They document how Inslee's cabinet and staff have been in discussions with Riverside Energy CEO Lou Soumas for nearly a year.
Inslee's advisers have scheduled meetings with Soumas, asked him to give presentations to staff in various state agencies and invited him to comment on potential clean fuels legislation. In an email to Soumas last summer, an Inslee staffer offered to take action to support the advanced fuels industry.
In February, Soumas wrote to the Port of Longview that the Governor's office had asked for updates on the project and when it could be announced, according to an email obtained by Columbia Riverkeeper and shared with news organizations.
"They are anxious to tie us in with their just issued draft Clean Fuels Standard process and other activities important to the (state's) energy and commerce plans," Soumas wrote. "I'm meeting with several of Inslee's direct reports on Wednesday in Olympia and they hope for a positive update on concrete progress on the project."
A week later, Brian Bonlender, the state's director of commerce, and Matt Steurwalt, Inslee's executive director of policy, held a meeting with Soumas in Steurwalt's office, documents show.
Hours after the meeting, Bonlender connected Soumas with staff at the nonprofit Climate Solutions and a state lawmaker's office.
When asked about the emails during an appearance on The Seattle Channel earlier this week, Inslee said he expects his staff to have such discussions.
"So I think I'd probably categorize these as: we're trying to figure out what they have in mind," Inslee said. "This does not presage any agreement whatsoever or opposition whatsoever because you have to know what you're doing."
Environmental groups, including the Columbia Riverkeeper and the Seattle-based think tank Sightline Institute, say such discussions should be happening in public view to ensure an honest process.
"It's very concerning, it's very worrisome that this kind of communication, this kind of lobbying would be happening with the governor's office outside the view of the public, on an issue of this magnitude," Sightline Policy Director Eric de Place said. "We're talking about a very environmentally risky project in a key part of the region."
Energy projects on the scale of Riverside's proposal must undergo a review by the Energy Facility Site Evaluation Council. It's designed to assess whether projects comply with state statute.
Jim Luce, an attorney who chaired the council between 2001 and 2011, said he always cautioned the governor not to comment on proposed projects.
"When I was EFSEC chair, working with the governor's staff, I encouraged — in fact, the staff encouraged — the governor to say nothing regarding a potential application because the public might conclude that there had been a predetermination or a predisposition toward a specific outcome on a project, which the governor would then have to finally decide," Luce said.
But, he said, staff in the governor's administration must toe a fine line. They advise on and promote the governor's energy policies, yet the governor ultimately must make an independent decision on projects that might benefit those policies.
The refinery outlined in Soumas' pitches to the Port of Longview and state officials aligns with Inslee's push for cleaner fuels. With California, Oregon and British Columbia having passed low carbon fuels regulations, Soumas has said he sees Washington's adoption of those rules as a matter of time.
Soumas has pitched his project to economic leaders in Longview as "the U.S. largest advanced renewable fuels facility" having "the lowest carbon footprint of any U.S. refinery" and capable of meeting the state's proposed low carbon fuel standards.
Two thirds of the facility's production would handle crude oil shipped by train from the Bakken shale of North Dakota. The other third would handle used cooking, seed and vegetable oils.
The refinery would rely on new technologies to create a mix of low carbon jet fuel, gasoline and other petroleum products for use in Portland and Southwest Washington.
Soumas has also estimated the refinery would generate 400 construction jobs and $8 million in tax revenue.
Inslee's office told the Longview Daily News it sees opportunity in the project.
Keith Phillips, Inslee's special assistant on climate and energy, said Riverside's proposal is intriguing.
"The idea that they're bringing biofuels and green jet fuels and cleaner gasoline — that's all intriguing, and we're very interested in it," Phillips said. "But we haven't made any explicit link to the clean fuels standards in part because we are working respectfully with the Legislature on 'can we reach agreement on how to move forward.'"
Phillips said he and other staff have intentionally limited Inslee's involvement in such discussions.
"We have been very careful with him and he has insisted on that," he said. "He knows there have been clean refineries proposed. But has not met with the proponents, and has not been briefed by staff on the details. He's waiting to see whether he has to perform a former legal role on the project.
de Place of the Sightline Institute said the track record of Northwest biofuel ventures is "one of failure."
Two projects initially built as biofuel refineries in the Pacific Northwest now handle fossil fuels. Facilities in Clatskanie, Oregon, and in Hoquiam, Washington, failed as biofuel projects and now handle crude oil.
"The prospects of adding a third such site in the same region strikes me as one that's really just a stalking horse for the conventional oil industry," de Place said. "And as such I don't really see why the governor's office would be participating in the way they are alleged to be participating."
KUOW/EarthFix reporter Ashley Ahearn and Northwest News Network reporter Austin Jenkins contributed to this report.