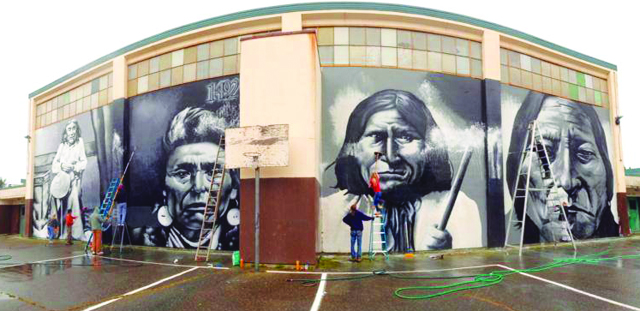 By Micheal Rios, Tulalip News 
Recently, the Seattle Art Museum presented PechaKucha Seattle volume 63, titled Indigenous Futures. PechaKuchas are informal and fun gatherings where creative people get together and present their ideas, works, thoughts – just about anything, really – in fun, relaxed spaces that foster an environment of learning and understanding. It would be easy to think PechaKuchas are all about the presenters and their presentation, but there is something deeper and a more important subtext to each of these events. They are all about togetherness, about coming together as a community to reveal and celebrate the richness and dimension contained within each one of us. They are about fostering a community through encouragement, friendship and celebration.
The origins of PechaKucha Nights stem from Tokyo, Japan and have since gone global; they are now happening in over 700 cities around the world. What made PechaKucha Night Seattle volume 63 so special was that it was comprised of all Native artists, writers, producers, performers, and activists presenting on their areas of expertise and exploring the realm of Native ingenuity in all its forms, hence the name Indigenous Futures.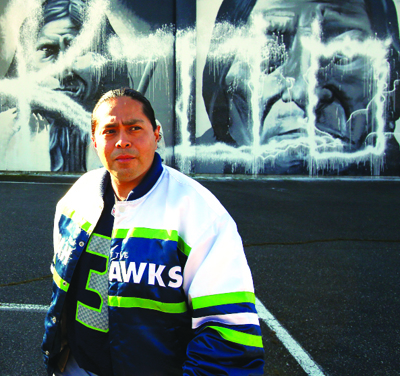 Andrew Morrison, San Carlos Apache and Haida, is a phenomenal painter and muralist who is proud to call Seattle his home, he is a great 12th Man Seahawks fan, and considers a blank wall his absolute greatest resource. Morrison's PechaKucha presentation was on the past, present, and future of the great Indian Heritage High School murals he created of Chief Sealth, Chief Joseph, Geronimo, and Chief Sitting Bull.
"Being a Native person, I really take a lot of pride in painting and creating murals. It truly is an honor every day to be able to celebrate the Native American arts through my craft," says Morrison. "The goal of my painting is to better myself, my family and the community."
Morrison and many of his friends attended Indian Heritage High School (IHS) in Seattle. In 2001, after attending college, Morrison began volunteering in the art program and noticed there was a void within the school. "I saw there wasn't a lot of artwork on the walls of the school. The walls were very blank and very dormant, without energy. As a muralist, as a painter, I'm always striving for larger surfaces," explained Morrison of his motivation to begin painting 25-foot by 100-foot large murals of Native American heroes.
It was a twelve-year project to completely finish the four mammoth murals on IHS, beginning in 2001 and being completed in 2013. The massive portraits of Native American heroes was noticed by news outlets, tribal and non-tribal alike. The portraits are a source of pride for many Native people who don't see their heroes recognized as they should be. Unfortunately, there were those who saw the massive portraits as an opportunity to vandalize another's work to showcase their own ignorance, as the mantra goes, 'haters gonna hate'. Over the weekend of February 24, 2015 a local graffiti crew desecrated the murals by splattering white latex paint all over them.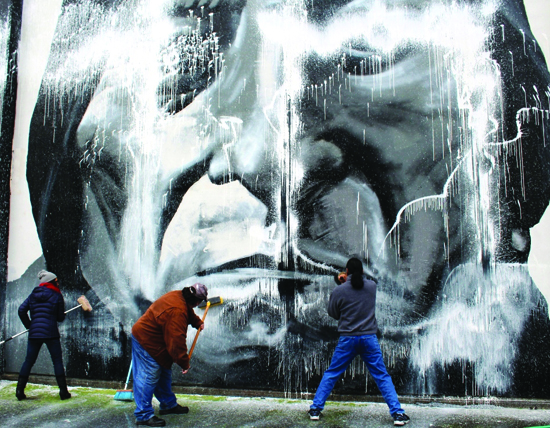 Only days later a cleanup operation, led by Morrison, consisting of 30-35 volunteers worked tirelessly to remove the white spray-paint and restore the murals to their former glory. As if the vandals' desecrations wasn't enough, soon after restoring the murals Morrison learned there was a proposal in the Seattle School District to demolish Indian Heritage High School, along with his murals.
"I fought and advocated for a  year straight, twelve months exactly, to preserve these murals. I felt these images of our Native American warrior chiefs were so sacred and so holy that to demolish them to the ground would be another form of desecration. That was a very tumultuous battle and fight, but I give the credit to the community and the people who believe in art and believe in our indigenous culture. Through the power of togetherness we were able to get the Seattle School District to vote to preserve these murals. Now, these murals are presented prepped and ready to go as they will be built into the new Wilson Pacific Schools to be opened next year.
"Especially after living through experiences like these, it actually inspires me to paint bigger and larger and be more creative and go more in depth. It is heartwarming to know that the murals will continue to witness life and be an inspiration at the new Wilson Pacific Schools."