Chinook Indian Nation chooses new leader at annual meeting; former tribal council chair Ray Gardner died earlier this year.
By Katie Wilson, Chinook Observer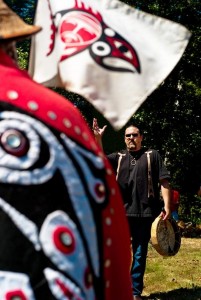 As the Chinook Indian Nation continues to push for federal recognition, it does so with a new leader in place.
On June 18, tribal members present at an annual meeting elected Tony Johnson as chairman of the 10-member tribal council. Johnson ran unopposed and will take over the leadership role formerly held by Ray Gardner, who died in February after a
long struggle with lung disease.
"There's a long chain of chairmen for the Chinook Indian Nation and it's an absolute honor to be now one of the links of that chain," Johnson said in a phone interview June 22. "I can't say enough how privileged I feel to be trusted with that role and the significance of it doesn't escape me."
The Chinook Indian Nation represents a range of people who traditionally resided in the Lower Columbia region, including the Cathlamet, Clatsop, Lower Chinook, Wahkiakum and Willapa.
Vice Chairman Sam Robinson's name was also down for nomination as chairman, but Robinson, who had taken on the role of acting chairman as Gardner's health declined, said he felt it was time to hand off that position to someone else, preferably someone in Pacific County.
"It'd be hard to fill our former chairman's shoes," Robinson said. "He was my cousin, my friend, my mentor and my tribal leader as well. … He had a style all his own." He had numerous contacts at the state and federal level and was well-known in the region.
"It might take Tony a few months to get his feet settled in, but I think he'll be just fine," Robinson said, adding that though Johnson and Gardner differ in their leadership styles, Johnson brings a wealth of contacts and knowledge from his time spent working with the Confederated Tribes of Grand Ronde and the Shoalwater Bay Tribe to his tenure.
A member of the tribe since he was 3-months old, Johnson is steeped in the culture, speaking the language and singing traditional songs at tribal ceremonies. He has been the member of the tribe's culture committee for 20 years and that committee's chairman for most of that time.
His father, Gary Johnson, also a member of the tribal council, said he is proud and happy.
"We look forward to having a very strong council that's going to continue to make more progress for our tribe," he said in a phone interview June 22.
At the meeting, the tribe also voted to fill several open council positions: Devon Abing and Jessica Porter were elected to the council, while Gina Rife and Gary Johnson retained their seats.
Former Chairman Gardner was 59 when he died. He had been an active participant in tribal leadership for 13 years. During his time as leader, he oversaw a successful effort to have the tribe's Middle Village included as prominent unit within Lewis and Clark National Historical Park and the tribe also came close to attaining official tribal status within the U.S. federal system.
This last is a fight the council plans to continue.
"It's all about clarifying our status and putting in place some of the key pieces that we need for a successful future," Johnson said.
Already, he has helped organize and launch a campaign called "The Chinook Executive Justice Recognition Project," which sends a letter a day to President Obama, building a case for Chinook recognition. Despite appearing in numerous first-person accounts by early explorers including the famed Lewis and Clark Corps of Discovery, the tribe is not federally recognized.
After fighting for recognition for more than a century, the tribe attained formal federal status in 2001 in the final days of the Bill Clinton administration only to have it disappear again when incoming appointees of the George W. Bush White House determined the tribe did not meet all the criteria required by the federal Bureau of Indian Affairs.
The BIA last year revised the criteria and the methodology it uses to evaluate tribes seeking recognition so the Chinook have redoubled their efforts.
"One of the things we've said consistently is that we have all the problems associated with 'Indian Country' and Indian communities," Johnson said.
Keeping the faith
The tribe struggles to maintain its cultural heritage in world that, officially, doesn't recognize it. Unlike other Pacific Northwest tribes, the Chinook have no land rights or fishing rights. The tribe's office is minimally staffed and can only provide bare-bones services to the Chinook community. The council chairperson position — and virtually every leadership position within the tribe — is volunteer-based.
"It's all about survival, finding the funds and making the contacts," Robinson said.
Johnson hopes to focus some of his time ono pursing grants to help fund and expand the community services provided by the tribal office.
"We've often said our folks are quiet folks and we're not ones that typically jump up and bang the table out in public for what is right and what needs to happen," Johnson said. "There are a few of us who have been put in that role and I want to speak up for those folks (who) have passed away or are still with us who, because of traditional values or from having been pushed down and out of the way for so many years, haven't been able to say what's the truth: that the Chinook have been pushed aside."