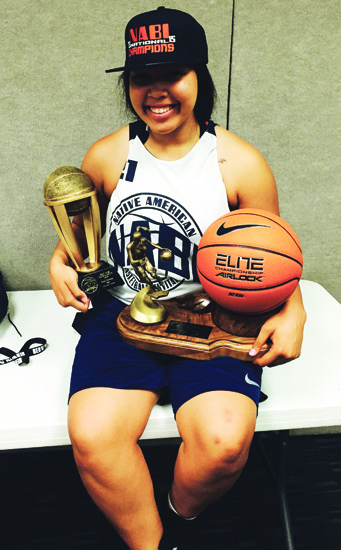 By Micheal Rios, Tulalip News; photos courtesy of Adiya Jones 
The 13th annual Native American Basketball Invitation (NABI) tournament, presented by Nike N7, the Seminole Tribe of Florida and the Ak-Chin Indian Community, took place from June 30 thru July 4 in Phoenix, Arizona. NABI has become the largest basketball tournament in the world featuring Native and Indigenous high school youth. This year's tourney featured 152 teams, totaling 1,600 Native high school-age youth representing teams from all across the United States, Canada and New Zealand. Through NABI, Native American high school athletes are given the opportunity to shine and use their talent to secure college athletic scholarships, while being showcased in front of countless college scouts.
This summer's tournament featured over 350 games played in three days of pool play and bracket games, with the Gold Division Championship games played at U.S. Airways Center, home of the Phoenix Suns and Phoenix Mercury, on Saturday, July 4. NABI also features a college and career fair, Team Meet & Greet pool party and educational seminars where the high school athletes are taught skills that inspire them to succeed and strive for higher education.
For Tulalip tribal member Adiya Jones, her talents on the basketball court were sought after by Team Nez Perce, the Idaho State Champions from Lapwai, ID. Nez Perce lost in heart breaking fashion in the finals of NABI 2014 and felt that by adding the post presence of Jones they would have enough fire power to win it all this year.
According to Jones, the invitation to play with an all-state championship team was an opportunity she couldn't refuse. "The Lapwai team have been my rivals in most all-Native tournaments. They've always brought out the best in my game when I play against them. Being asked to play with them at NABI was very humbling and would give me a chance to work on my skills while being surrounded with a state champion."
Not only was Jones playing on the Nez Perce team, but she would be starting at center every tournament game. The combination of speed and outside shooting that separates the Nez Perce girls from their opposition is usually enough to claim victory in any game. Now, with Jones holding down the paint, Nez Perce was the clear favorite to win the Gold Division championship.
Through the first four games of the tournament team Nez Perce, led by Jones, rolled teams in dominant fashion; winning by an average margin of 29 points per game. It wasn't until the quarter-finals that Nez Perce finally found themselves in a competitive game versus Pueblo Elite. At halftime, the offensive driven Nez Perce, had only managed 7 points and were trailing 7-11.
"It was 112 degrees outside and we were playing our 2nd game in a gym with no A/C," says Jones, who attributes the team's poor first half to the tough to play in conditions. "We were super tired, but at halftime we had the chance to rehydrate, sit down, and catch our breath finally."
Following halftime, Nez Perce would go on to outscore their opponents 31-16 in the 2nd half and claimed a 38-27 victory. Things wouldn't get any easier for the now battle-tested Nez Perce, as they would have to play their semi-final game in less than two hours. The game would be another highly contested battle, but Nez Perce would prevail 40-33 and get a night's rest before their championship game versus Cheyenne Arapaho.
The Championship game was held at U.S. Airways Center, home of the NBA's Phoenix Suns, at 1:00 p.m. on Saturday, July 4. It featured two undefeated squads in Nez Perce and Cheyenne Arapaho who were both 7-0 to this point.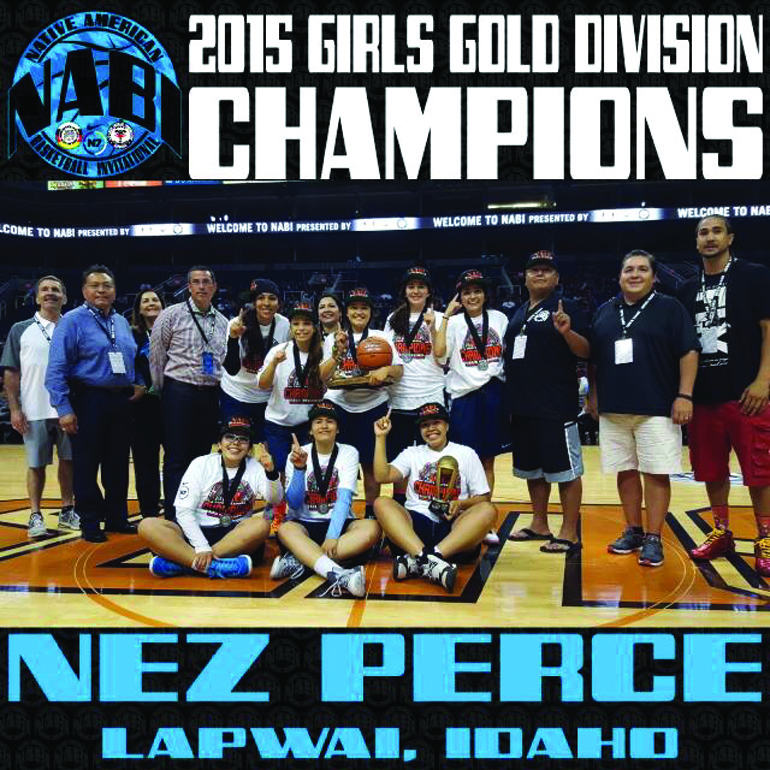 As detailed by Jones, "our final game was such a good game. It was so close the whole time, with neither team taking more than a 4 or 5 point lead. It was the only game we played that I had doubts if we'd be able to pull out the win because Cheyenne just looked like they wanted it more. With like 2:00 to play we finally managed a little run and took a 6 point lead, but then Cheyenne pushed the tempo on us and we were really tired so it worked. They went up 2 points with barely any time remaining. We called a timeout, drew up a play, and were fortunate to execute the play perfectly. Cayla Jones made a game-tying basket right before the final buzzer to tie it up."
The clutch basket by Nez Perce forced a 3-minute overtime period in the final game of the tourney. Nez Perce would ride that momentum in the extra period and earned a hard fought 78-75 victory to claim the Gold Division Championship. For her stellar tournament play, averaging a stat line of 18 points, 9 rebounds and 7 blocks, Adiya Jones was awarded tournament MVP.
"I was shocked. Extremely thankful, but shocked more than anything. There were so many good girls there," says Jones. "My MVP and our tournament Championship is all do to the team chemistry we had. There were several scouts who commented on how good we looked playing together, they thought we had been playing together for years, but this was my first time playing with this team. They made me feel super comfortable in their system and it really showed in my performance. It was definitely the highest level of play I've been a part of and the best competition I've gotten from a tournament.
"Overall, NABI was such a great experience for me. Off the court I was able to sit down and talk to basketball mentors A.C. Green, 3x NBA Champion, and Kenny Dobbs, world renowned slam-dunk champion. Their words were so inspiring, just hearing them talk of their trials and tribulations…their motivational speeches to us. After the tourney was over I had college coaches and scouts give me their contact information. We've had some back and forth via email already and, hopefully, now there are some potential opportunities available for me to play college ball."
Contact Micheal Rios, mrios@tulaliptribes-nsn.gov