By Northwest Indian Fisheries Commission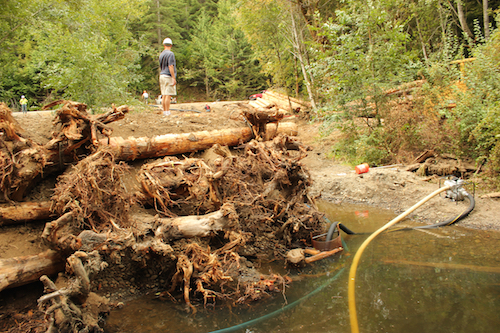 SHELTON – The combination of dam removal and aggressive habitat restoration has meant record runs of juvenile coho salmon in Goldsborough Creek for 2015.
This year's run of 113,000 juvenile counted by the Squaxin Island Tribe continues a strong trend of increasing the numbers of juvenile coho leaving the Goldsborough watershed. The previous record was 61,000 coho.
Almost 15 year ago the U.S. Army Corps of Engineers removed a dam on Goldsborough, opening over 30 miles of near intact habitat to salmon. Since then, the Squaxin Island Tribe has worked with community partners to further improve the habitat through restoration projects throughout the watershed.
"The lesson of Goldsborough Creek is pretty basic: If you give salmon habitat, they're going to succeed," said Andy Whitener, natural resources director for the Squaxin Island Tribe.
For example, a couple of years ago, the tribe worked with the South Puget Sound Salmon Enhancement Group, Simpson Lumber, the Green Diamond Resource Company and Miles Sand and Gravel to restore habitat along the creek. The project partners added wood structures to the stream, which give both juvenile and adult salmon places to feed and hide.
A year earlier, the Tribe and the enhancement group replaced undersized culverts just upstream from the old dam site that were blocking a tributary to Goldsborough. The project opened nearly a mile of new spawning and rearing habitat that had not seen salmon in over 100 years.
"These projects, coupled with dam removal, reversed a negative trend for coho on Goldsborough," Whitener said.
The tribe has operated at least one smolt trap on the creek since dam removal to count out-going salmon migrants. Smolt traps are safe and effective devices for counting young fish. Smolt comes from the word "smoltification" which is the term used to describe the physiological changes that young salmon undergo while in freshwater, just before migrating downstream and entering saltwater.
"By using the trap every year, we're getting a great picture of the benefits salmon see from good habitat," said Daniel Kuntz, fisheries biologist for the tribe.
Most importantly to coho salmon, the removal of the dam opened up access to a series of wetlands where juvenile salmon could rear. Unlike most other species of salmon, coho spend an additional year in freshwater before heading out to sea.
The Tribe along with WDFW also conducts yearly adult spawning surveys on Goldsborough Creek above the former dam site. "We get a good look at these salmon at both ends of their life-cycle – as they leave as juveniles and as their returning as spawning adults," Kuntz said.
"The success salmon have seen since we've begun restoring the watershed shows directly how much salmon really do depend on habitat," said Whitener. "