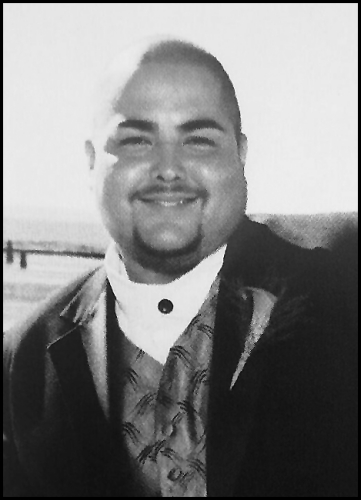 Jesus "Zues" Antonio Echevarria, 44, passed away unexpectedly on July 24, 2015, surrounded by his family and friends.
Zues was born in Santurce, Puerto Rico on January 11, 1971, to Jeannie and Carlos Echevarria. Zues was an active participant throughout his school years and an excellent lineman. He graduated from Franklin High School in 1990. Throughout his life, Zues was famous for being a protector, watching over all of his family and friends.
It is difficult to summarize everything that he was great at; he was a wonderful daddy, brother, son, mate, cousin and friend. Zues was a professional entrepreneur; excelling as a fisherman, cook, football coach, security guard, and fireworks stand owner. Zues will forever be remembered for his compassion with regard to children and was known for being a baby whisperer. His larger than life personality and humor will never be forgotten.
Zues is survived by his parents, Carlos and Jeannie Echevarria; brothers, Carlos Echevarria, and Juan Echevarria (Nazmi); nephew, Raihan Echevarria; special parents, Tony and Judy Gobin, sisters, Joni Gobin (Josh), Jamie Gobin, and Toni Jo Gobin; children, Mekalani, Alexzes and Jesus; and his best friend "The Warden" Heather Gobin. He is also survived by an extended family too numerous to list.
He is preceded in death by his grandparents, Norma and John Rivera, Cruz and Manuel Echevarria, aunt, Lydia Rivera, uncles, John and Carols Rivera, Papa Jim Bow, Gib Baker and cousin/brother, Michael Lee Joseph.
Visitation will be held at 1:00 p.m. Thursday, July 30, 2015, at Schaefer-Shipman Funeral Home, 807 State Ave., Marysville. An Interfaith Service will be held on Thursday, July 30, 2015 at 6:00 pm at 6700 Totem Beach Road. Funeral Services will be held on Friday, July 31, 2015, at 10:00 a.m. with burial to follow at Mission Beach Cemetery.