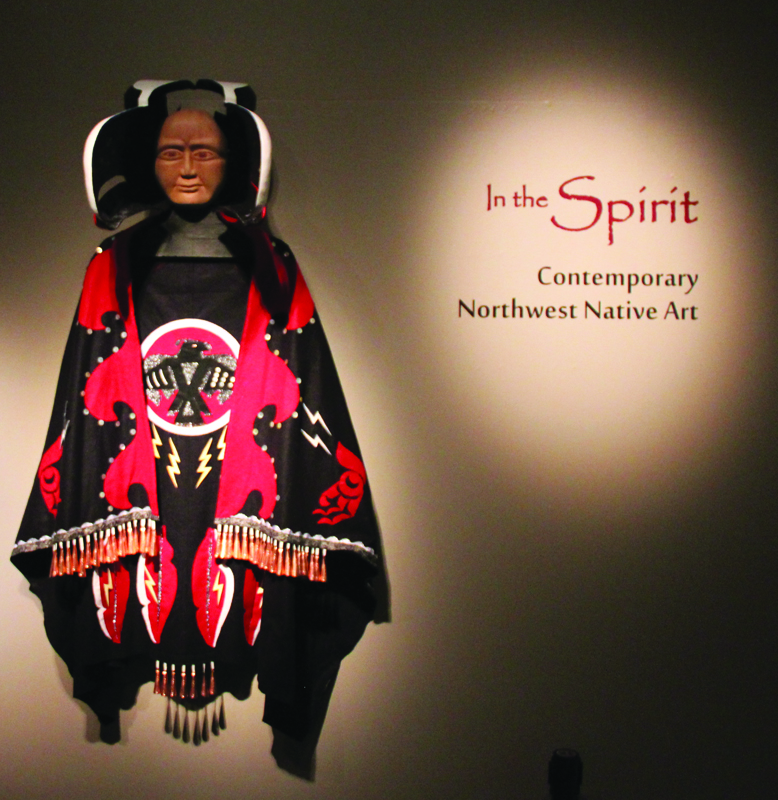 by Micheal Rios, Tulalip News 
The Washington State History Museum, located in Tacoma, is currently celebrating the Pacific Northwest's distinctive Native heritage with In the Spirit, an exhibition of contemporary Native American art that will be on display through Sunday, August 30. Beginning in 2006, the Washington State Historical Society partnered with the Longhouse Education and Cultural Center at Evergreen State College to host the exhibit and accompanying art market and festival. Now celebrating its 10th anniversary, the In the Spirit Contemporary Native Arts Exhibit showcases beautiful works by Native American artists. From traditional designs to contemporary themes, In the Spirit shares Native culture through carving, sculpture, graphic design, painting, and multimedia techniques.
"Our hope is to offer the community an opportunity to explore the state's rich cultural heritage through music, dance, and art," says Jennifer Kilmer, Director of the Washington State Historical Society. "This year we are celebrating our commitment to sharing Native American culture with the 10th anniversary of In the Spirit."
Accompanying the annual exhibit was a Native American art market and festival, held on August 8, which filled the museum grounds with Native vendors selling exquisite works in all price ranges, while Native singers, musicians, and dance groups performed in the museum's outdoor amphitheater.
This year's festival featured award winning artists, carving demonstrations, gallery talks, and unique performances. The Lakota rock band, Scatter Their Own, performed their "Alter-Native" music that conveys messages of protecting the Earth and ensuring that water and food will remain pure for future generations. A truly stunning performance occurred as Vince Redhouse, two-time Grammy nominated musician and member of the Navajo Nation, shared his woodwind genius with the traditional Native Flute.
"I've been asked why I play music like 'Claire de Lune' by Debussy or Pat Methany's 'The Road To You' on the Native Flute," says Redhouse. "To me it's fairly simple. I want to play the most beautiful music ever written or played on what I consider the most beautiful sounding instrument. Also, my unique upbringing as an urban Indian that was exposed to great music and training all through my life makes this my gift to others."
Redhouse hopes that because of the significance of the Native flute to its people, his playing of this instrument in the bold and unique way that he does will make Native Americans more visible in this 21st century.
"We have a spiritual connection to this land that is very unique and a spirituality that was vital to those who lived on this land then and now," continues Redhouse. "I believe music is more than what we hear, but is something that we feel at a very deep place. Beyond the technique and clichés is a place where music becomes the song that transcends all and is the universal language."
The In the Spirit exhibit will be on display thought Sunday, August 30. For those not able to make the short journey to Tacoma to witness the 29 pieces of contemporary Native American artwork, in a variety of mediums, we now share with you some of the most spectacular In the Spirit pieces.