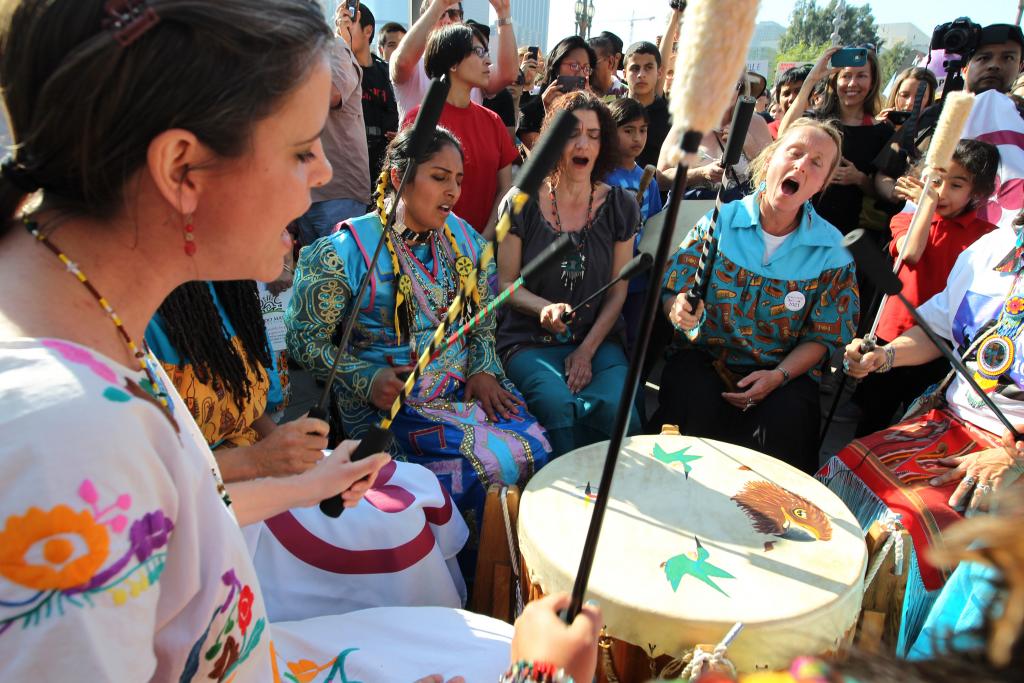 By Justine Calma, Global Post
NEW YORK — Not far from the negotiations for a new global development agenda that took place between heads of state at the United Nations General Assembly last month, a small group of female leaders gathered out of the limelight to sign another historic agreement.
The delegation chose not to meet at UN headquarters in east Midtown but on a traditional Native American tribal territory in Central Park's East Meadow.
Seven women representing eight different tribes signed a treaty to unite the indigenous women of the Americas in friendship to protect the land and people from the harms of climate change and environmental degradation.
In what organizers said was the first-ever indigenous women's treaty, the women pledged to support the rights of indigenous peoples, commit nonviolent acts of civil disobedience to protect the planet, and demand immediate changes to laws that have led to environmental destruction.
"We're saying this is the line. We're done. The destruction stops now," said Pennie Opal Plant, one of the treaty's lead signers.
The United Nations recognizes that women are more vulnerable to the effects of climate change because they constitute a majority of the world's poor and are more dependent on natural resources for their livelihood.
"Women's role as central stakeholders is one of the most important, yet untold stories of climate change. If we are to have a fighting chance at restoring the health of the Earth and our communities, women's experiences and knowledge must be brought to the forefront," said Osprey Orielle Lake, the executive director of Women's Earth and Climate Action Network (WECAN), at an event where the treaty was later presented.
The signed treaty contends that the laws of Mother Earth "have been violated to such an extreme degree that the sacred system of life is now threatened and does not have the capacity for life to continue safely in the way in which it has existed."
Opal Plant, who is of the Yaqui, Choctaw and Cherokee tribes, was instrumental in shaping the treaty. She grew up in the shadow of Chevron and Shell refineries in the eastern part of the San Francisco Bay Area, where she saw environmental degradation first-hand. She has organized nonviolent prayer walks in her home city led by Native American elders, but after connecting with other women during a gathering of nature rights advocates in Ecuador 2014, Opal Plant saw opportunity to launch a worldwide movement. She joined several other indigenous leaders from the US and Ecuador — Casey Camp-Horinek of the Ponca tribe, Patricia Gualinga Montalvo and Blanca Chancoso of the Kichwa, and Gloria Hilda Ushigua Santi of the Sápara.
"When women unite and commit to something, shifts happen," said Montalvo, speaking through an interpreter. "I feel strongly that it's a time to be heard and for actions to take place."
Montalvo played a large role in successfully fighting the Ecuadorian government in 2012 in a landmark Inter-American Court of Human Rights case, Sarayaku v. Ecuador, in which the Ecuadorian government was found guilty of rights violations after authorizing oil exploration on Sarayaku lands without prior consultation with the indigenous community.
Opal Plant and her treaty co-signers presented their document at an event hosted by WECAN on Sept. 29, a Global Women's Climate Justice Day of Action.
Women are disproportionately impacted by climate change, and they are central to solutions, said Orielle Lake at the event.
In the coming months, Opal Plant and her co-signers will create a website to expand the treaty beyond the Americas and allow other groups to sign online. In December, they plan to bring the treaty to COP21, the Paris Climate Conference, and hold another ceremony where more indigenous women leaders will join.
Montalvo's indigenous community in Sarayaku is constructing a canoe that will travel from Ecuador to France. "The canoe is a symbol of Sarayaku, a symbol of our living forest," said Montalvo. "We will bring it all the way to Paris so it can navigate the River Seine and so we will be heard."
In New York, WECAN also presented a Women's Climate Declaration, which includes a demand to bring back atmospheric carbon dioxide concentrations to below 350 parts per million — which many scientists agree is a level that avoids catastrophic global warming — and an aim to ensure that women's groups have access to funding to adapt to climate change that is already happening. The declaration already has garnered over 2 million signatures and will be delivered at COP21 later this year.
Women comprise 20 million of the 26 million people estimated to have been displaced by climate change, according to a 2010 report by the Women's Environmental Network.
"I ask that as temperature rises, that we rise," said Orielle Lake.