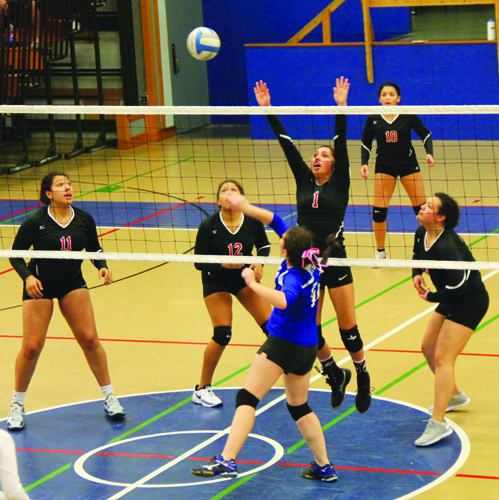 By Micheal Rios, Tulalip News
On Tuesday, October 20, the (3-7) Tulalip Heritage Lady Hawks hosted the (2-8) Orcas Christian Saints. Back in late September the Lady Hawks defeated the Saints 3-0 and were looking to snap their 3-game losing streak with another victory over the Saints.
Tulalip started out very sluggishly in the 1st game, trailing 13-14 to a team they could have easily been blowing out. Coach Tina Brown called a timeout to chat with her team.
"We aren't communicating. You girls have to play hard. This shouldn't be a close game. Communicate, move your feet, stop second guessing and play had like I know you can. Let's go and finish this game strong," Coach Tina told her team.
The Lady Hawks responded by going on a 12-1 run that won them the opening game, 25-15. Highlighted by five straight aces served up by Adiya Jones, the Lady Hawks looked prime to finish this match off quickly.
Orcas Christian had other ideas though. The Lady Hawks started the 2nd game by going up 4-1 before the Saints countered with 8-1 run of their own. Now trailing 5-9, the Lady Hawks appeared to shut off their intensity switch. They completely stopped communicating, resulting in easy aces for the Saints and multiple times where players ran into each other because no one was calling for the ball. Down 6-14, Coach Tina again called for a timeout to try and rally her team. Her team didn't respond like they did in the 1st game and wound up losing the 2nd game 19-25.
Before the start of the 3rd game, Coach Tina pleaded with her team to find the energy and intensity that had disappeared from her players. "Trust, communication, the setter gets the 2nd hit. You all know the game plan but aren't doing it. It's all about communication. You have to get rid of the attitudes and negativity. We're killing ourselves with the negativity." Coach's sentiments were echoed by players Mikaylee Pablo and Jaylin Rivera, who both tried to pump up their team and get everyone's head up.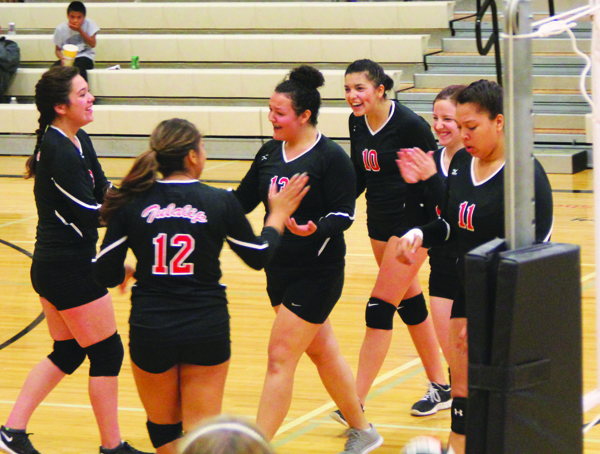 It took everyone's effort to get the Lady Hawks back into the game, it may have taken some talking to, but it worked. In the 3rd game, the Lady Hawks jumped out to a 15-5 lead. Most importantly, the girls looked like they were having fun again. They were talking it up and running for the ball. For their efforts they won the 3rd game 25-12.
Their solid play continued in the 4th game, and really the game was only semi-close because of the 6 points the Lady Hawks gave away on bad serves. They won the game 25-20 and claimed match victory 3-1.