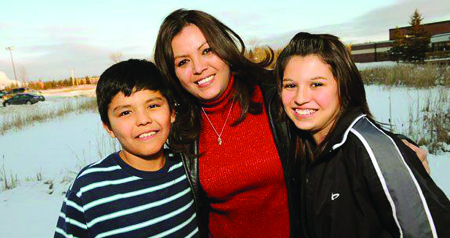 Robin Poor Bear visits Tulalip, speaks out against abuse
By Kim Kalliber, Tulalip News 
An estimated one in three Native American women are assaulted or raped in their lifetimes, and three out of five experience domestic violence. Robin Poor Bear, an Oglala Sioux and member of North Dakota's Spirit Lake tribe, is one of these women.
After facing years of abuse, which began at the age of three when she was molested by her father, and continued through a foster father and two uncles before an abusive husband, Poor Bear continues to fight to improve her life and the lives of others.
Poor Bear turned to alcohol as a way to cope with the psychological issues stemming from abuse. Following her divorce, and the conviction of her ex-husband for molesting their daughter, her two children were taken away from her.
"Kind Hearted Woman," A PBS documentary created by acclaimed filmmaker David Sutherland, tells the powerful story of Poor Bears struggle to sustain herself, overcome addiction, and gain custody of her children against daunting odds.  And throughout it all, she remains kind hearted and devoted to helping others.
Since the making of the documentary, Poor Bear has been traveling to various reservations and communities, serving as a role model and a symbol of strength to other women.
"A lot of people tell me that I'm so brave and so courageous, and I don't feel like that," said Poor Bear on her recent visit to Tulalip.  "I think that the Creator gives you strength to carry through whatever it is you have to go through. When I told my story, it was Him, I was just going through the motions."
Poor Bear spent two days, October 19 and 20, on the Tulalip Reservation, speaking with community members about overcoming the fear to speak out about abuse, recovering from tragedy, and urging others to reach out for help.
"I'm so grateful for all of it. There were tons of people that attended these two days of workshops. What an honor. What a beautiful, beautiful place that is here. The people are so amazing. What can we do, is the response I got from the people. I want to give each and every one of them a big thank you, because we need more of that."
Speaking on VAWA and tribal courts, she impressed, "Law enforcement attended. There were law enforcement in this. That speaks volumes in how far this reservation is. Even though people don't feel like you're that far, you are. You're dealing with historical trauma, generational trauma and genocide. That was instilled upon us, in our bloodline. We are just now getting into this process that has been long coming, like VAWA and all the work of the amazing women who changed legislation. They're the ones who have helped me tell my story."
"It's time to end the 'shh, don't tell' mentality," Poor Bear said, acknowledging that many cases of abuse fail to get reported because of close-knit communities and family members. "It's time to say, you know what, I want to hear what you have to say. I want to hear your voice."
Poor Bear strongly encourages everyone to reach out, to speak up. A good place to start is by contacting an advocate. "It was an advocate that helped me and introduced me to Davis Sutherland. It was an advocate that helped me through the toughest times in my life, when my own family wouldn't.
"One thing I did, was with a relative that stayed with me, who was in this situation. I invited her and her boyfriend to come and stay with me and I left my pamphlets all over the house, in the bathroom, in her laundry. Finally she said, is this me? And I said, I don't know only you can answer that. Is it you? And that's where she started."
"We have a wealth of resources. Call an advocate, call and reach out to the mental health workers. National hotlines are also available. There is just so much information and so many places to go and to know that you are not alone. I want to tell them all, you are not alone."
For information about the "Kind Hearted Woman" documentary, visit  PBS.org
If I am a survivor of domestic violence or sexual abuse or know someone who is, how can I get help and support?
If you or someone you know is feeling threatened or experiencing abuse, contact service providers at one of these national hotlines for confidential support. Advocates can refer you to local resources in your state or territory.
National Domestic Violence Hotline: 1-800-799-7233
Advocates are available for victims and anyone calling on their behalf to provide crisis intervention, safety planning, information, and referrals to agencies in all 50 states, Puerto Rico, and the U.S. Virgin Islands. Assistance is available in English and Spanish, with access to more than 170 languages through interpreter services.
National Sexual Assault Hotline: 1-800-656-4673
Among its programs, the Rape Abuse and Incest National Network (RAINN) created and operates the National Sexual Assault Hotline. This nationwide partnership of more than 1,100 local rape treatment hotlines provides victims of sexual violence with free, confidential services around the clock.
Childhelp National Child Abuse Hotline: 1-800-4-A-CHILD (1-800-422-4453)
Serving the U.S., its territories, and Canada, the hotline is staffed 24 hours a day, seven days a week with professional crisis counselors who, through interpreters, can provide assistance in 170 languages.
National Teen Dating Abuse Helpline: 1-866-331-9474 or 1-800-331-8453 (TTY) or text "loveis" to 77054
The National Teen Dating Abuse Helpline provides 24/7 phone, text, and chat services designed for young people involved in dating abuse relationships as well as concerned friends, parents, teachers, clergy, law enforcement, and service providers.
A full resource list and hotlines for survivors of domestic and/or sexual abuse can be found at PBS.org
___________________________________________________________
Warrior of mine

Do warriors still exist today…

Yes they do when they Kneel and Pray…

Understanding ALL is not lost…

Walking the "Red Road" not what they were taught…

They lived a life of drugs, booze VIOLENCE, and lust…

Now they are learning in the "Creator to trust"…

They don't…always believe in "OUR WAYS"…

After all We were "SAVAGES" raped of our PRAISE…

Some Fight Harder, Louder, some still do wrong…

Most are living…walking…looking strong…

Those are our "lost warriors" who still suffer today…

And its for those whom I ask to KNEEL and PRAY….

It was NEVER their FAULT just something "THEY" taught…

HOPING TO "KILL EVERY INDIAN THEY CAUGHT"…

We will carry OUR TRADITIONS through time…

I am grateful to know the WARRIOR and a Friend of MINE…

Written by Robin Poor Bear