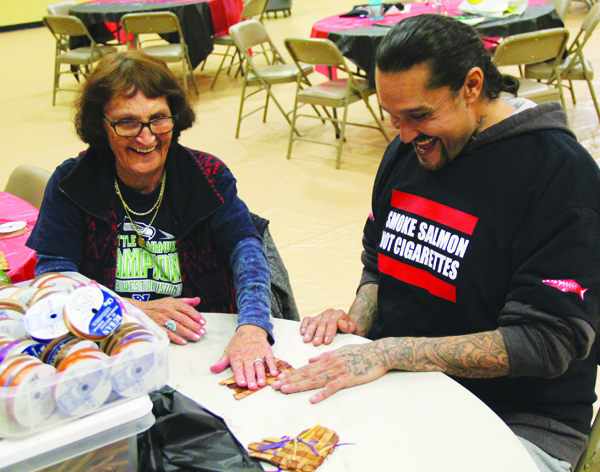 By Micheal Rios, Tulalip News 
Smoke Salmon, Not Cigarettes. That was the theme at this year's first ever Tobacco-Free Together Day, held on Wednesday, October 28 at Greg Williams Court from 11:00 a.m. to 2:00 p.m. Planned by the Adult and Youth Smoking Cessation programs, the event brought members of the Tulalip community together with the goal of getting as many people as possible to quit smoking for the day, begin thinking about quitting, and celebrating a journey to becoming smoke-free together.
Some quick, sobering facts. Although Native Americans make up approximately 1% of the United States population, we have the highest smoking rates of any racial/ethnic group in the United States. Two out of every five Native Americans will die from tobacco-related diseases if the current smoking rate of 40.8% persist. Currently, there is no proven, effective culturally-tailored smoking cessation program designed specifically for the Native American population.
Fortunately, there are dedicated folks within Tulalip's Smoking Cessation programs who are committed to creating culturally-tailored stop-smoking events and strategies to help combat cigarette smoking, the number one cause of preventable death among Native Americans.
"Attendees shared a salmon lunch, learned some interesting facts about nicotine, and received a goodie bag including smoked salmon, facts about tobacco, and shirts sporting our motto for the event, 'smoke salmon, not cigarettes'," said Ashley Tiedman, Tobacco Cessation Program Coordinator. "It was a very positive day full of good vibes!  On top of the delicious lunch, we had the Rediscovery Program from Hibulb Cultural Center on hand teaching attendees cedar weaving. Also, Taylor Henry taught beading as a way to use cultural activities to cope with and get through nicotine cravings.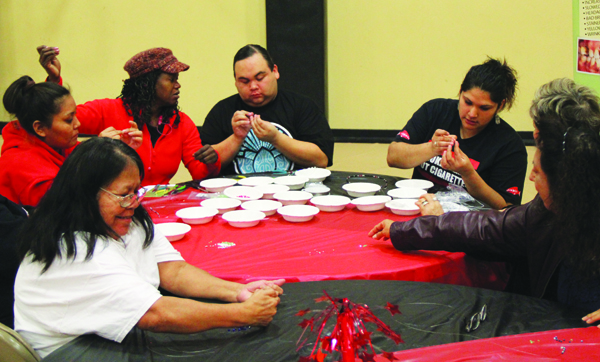 "It was a great start for an event we plan to have annually. A total of 120 people attended. Of those, about 30 people were thinking about quitting smoking, currently quitting, or committed to quit for the day.
"I really look forward to how this event will grow," continued Ashley. "Tobacco-Free Together Day is a day for the whole community, whether you smoke or not, to come together and celebrate being smoke-free. The goal of this event was to help raise awareness on the dangers of smoking while also being a fun and relaxing environment where people wouldn't feel pressured to quit, but be able to walk away with valuable resources rooted in culture, so when they're ready to quit they'll know what is available to help them on their journey to becoming smoke-free."
Ready to quit smoking? Tulalip Tribes Stop Smoking Program can be reached at (360) 716-5719. Please call for supplies and support in your journey to become smoke-free.
Contact Micheal Rios at mrios@tulaliptribes-nsn.gov