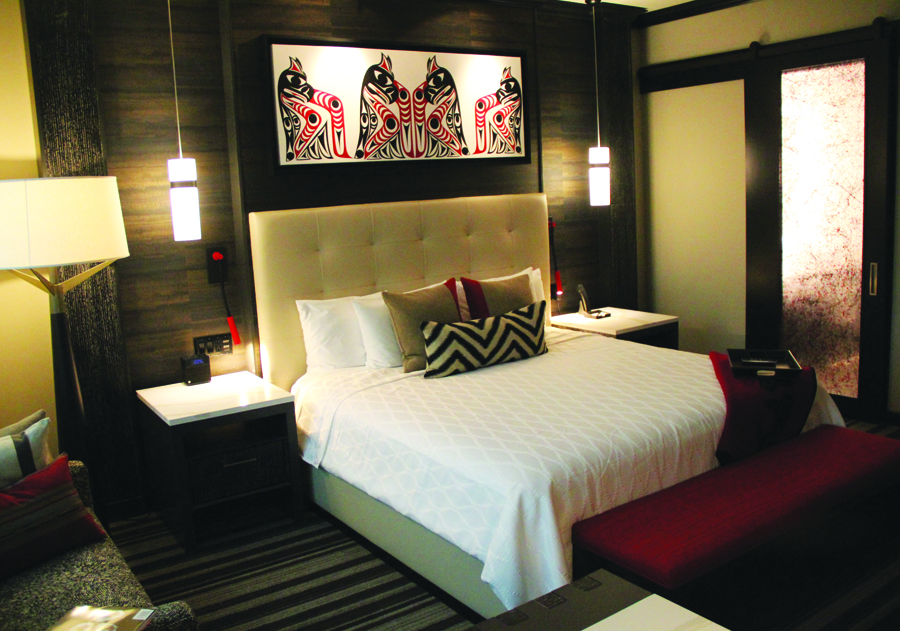 By Micheal Rios, Tulalip News 
A new year brings hope. A new year triggers a desire to change an aspect of your life. An optimistic spirit of "new year, new me" motivates many to make a New Year's resolution. Even the casual social media user had their timeline plastered with New Year's resolution aims, goals, lyrics, or memes. Most people declared to do more or less of something in their day-to-day lives, such as eating healthier, exercising on a regular basis, losing weight, quitting a bad habit, or learning how to better manage money.
Well, as a brand and as a resort destination, the Tulalip Resort Casino has made a New Year's resolution of its own: to return as the standard bearer for luxury accommodations that balance artistry, stylish elegance, and an abundance of comfort.
When the Tulalip Resort Casino (TRC) opened in May 2008 there was no question who had the most luxurious accommodations in the area, it was Tulalip. Fast-forward nearly eight years to the present and the TRC no longer stands head and shoulders above the rest. Over the past eight years, many tribes in the state have followed Tulalip's lead and built their own resort casinos. Those with standalone casinos have added a hotel, those with a subpar hotel have upped their game by remodeling, and then there are the tribes who decided to enter the gaming world and invest in newly constructed resort casinos. All this is to say Tulalip now has competition where once there wasn't any.
"Since we've opened our tower and been operating the Tulalip Resort Casino, we've seen Swinomish open their property, Silver Reef has opened their second tower, Angels has opened their new property, and Clear Water has added a tower," explains Sam Askew, General Manager of Tulalip's "four-diamond rated" hotel. "The competition, in terms of gaming within the state, have all upped their game because they want to emulate what Tulalip has done and continues to do."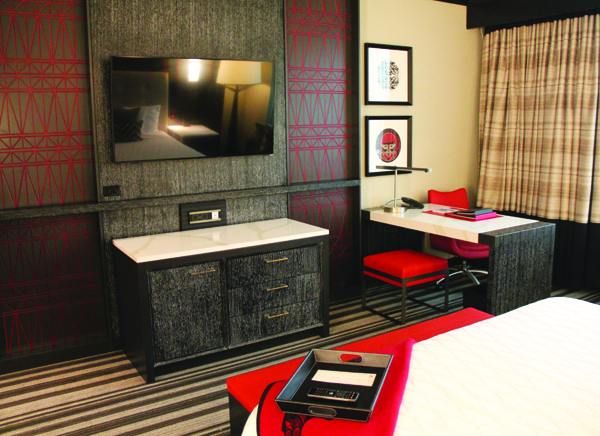 Over the past eight years, the accommodations industry has seen trends change and upgrades in technology, furnishings, and in-room amenities that are now in demand by today's guests. Frequent guests of resort casinos can notice the difference in room quality from an out of date accommodation, as do tribal members who have stayed at other newly minted hotels in the region. Because of this, the Tulalip Board of Directors and TRC executive staff deemed it time to renovate the hotel guest rooms and bring back the WOW-factor that Tulalip is known for.
Of the two new room designs to be implemented in the renovation, it's the Tulalip design that will be most prevalent. The Tulalip room design is self-evident; everything from the predominantly red and black color scheme, styling, design elements, artwork and even the carpet graphics have you feel like you are at Tulalip. Everything in this room is designed and geared for Tulalip culture and history, whether it's a weaving token, fishing reference, or a stunning piece of artwork created by Tulalip artists James Madison and Joe Gobin.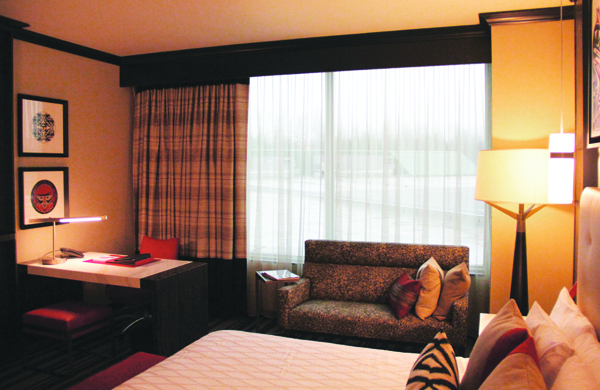 Bringing back the WOW-factor to the guest rooms will include introducing many new enhancements to each room.
"One of the interesting things, too, is that most of the guest enhancements in the new rooms come from a culmination of guest requests and suggestions, recommendations from our facility and maintenance teams, and our continued mission to provide the best service we can," says GM Sam Askew. "Guest enhancements include an improved heating and cooling system, in-room refrigerator, lowered countertops, vessel sinks, improved ventilation in the bathroom, new electrical outlets with USB ports to charge your electronic devices, faster in-room WiFi, and all TVs will be smart TVs with over 100 channels provided by Tulalip Broadband. There will also be smart media hubs in each room so that you can hook up a gaming system, tablet or even PC to the TV. We've also got state of the art Bluetooth enabled smart mirrors in the bathroom, so you can listen to your favorite music while enjoying Tulalip's famous shower."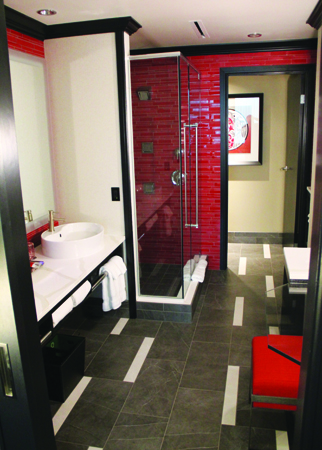 So from a whole new design with new and upgraded technology, furnishings, and amenities that will make guests have no doubt they are staying in Tulalip, to a whole list of guest enhancements that will continue to grow as renovation is underway and new ideas are introduced, Tulalip will be getting its WOW back.
"For us, I think the big takeaway will be the rooms clearly identified as Tulalip. There will be no ifs, ands, or buts about it, when you see the room you'll know it's a Tulalip room. I'm proud of that," continues GM Sam Askew. "In our industry most people go with safe and comfortable, but here we're able to go with WOW and a sense of heritage and belonging. For me, that part is the best. It demonstrates the culture of service we are known for at Tulalip and it also demonstrates the Tribes long-term commitment and vision."
TRC guest room renovation is currently underway and estimated completion is March 31, 2017. Be sure to follow Tulalip News on Facebook  for updates as the renovation is ongoing.