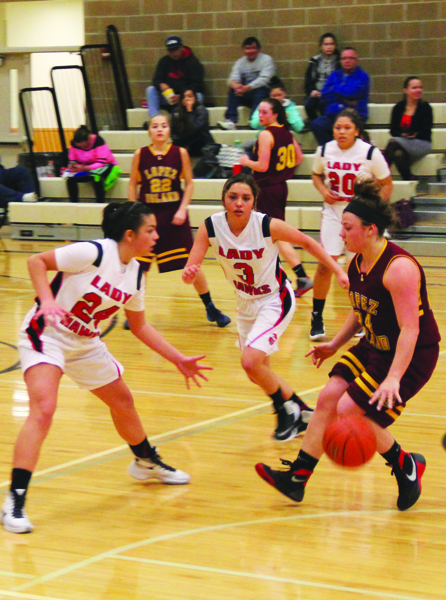 by Micheal Rios, Tulalip News 
On Monday, January 5, the Tulalip Heritage Lady Hawks (8-0) hosted the Lopez Lobos (2-4) at Francy J. Sheldon gymnasium. For the Lady Hawks, it's been smooth sailing through the first eight games of the season. Owners of an undefeated record and winning by an average margin of 24 points, the Lady Hawks are on a dominating form of cruise control.
The dominance has been showcased on both ends of the floor, as they are averaging a league high 52 points per game while holding their opponents to a measly 29 points per game.
In the 1st quarter of Monday's game, the Lady Hawks displayed everything that's been working for them thus far. They were able to work the ball inside to Adiya Jones and Cyena Fryberg at will, their ability to draw a double team opens up wide open looks for wing players, and those wings have been knocking down the good looks. Then on the defensive end, the Lady Hawks use a nice combination of 2-3 zone and full court press to either force their opponents into a highly contested jump shot or a turnover. The home team led 17-9 at the end of the quarter.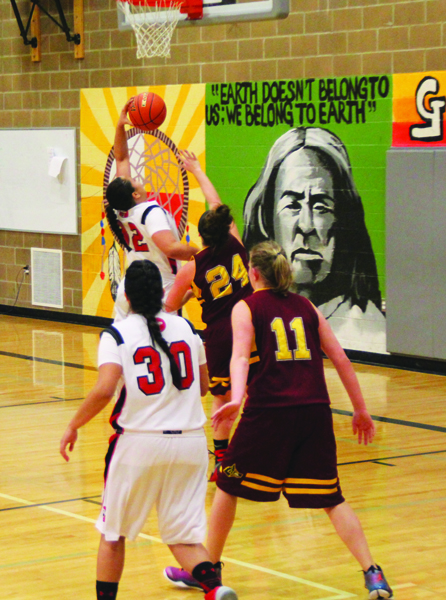 In the 2nd quarter, guard Keryn Parks caught fire from 3-point land, making three straight 3-pointers. Aliya Jones chipped in a 3-pointer of her own, while Adiya started to have her way inside scoring three fields goals in the paint. Defensively, the Lady Hawks were putting on a clinic. It seemed like every other possession they would come up with a steal or block. Forcing so many turnovers left the Lobos dazzled and they weren't able to do much scoring. At halftime the home team had a 20 point lead, 38-18.
During the 2nd half, with such a large lead, coach Bubba Fryberg was afforded the opportunity to give his bench players some heavy minutes. It was good a learning experience for the Lady Hawk reserves as they tried to run their offensive sets while remaining active on the defensive end.
When the final game buzzer sounded, the Lady Hawks had moved to 9-0 on the season with a 58-38 win. Keryn led all scorers with a career best 21 points, while Adiya filled the box score with 13 points, 14 rebounds, 4 assists, 5 steals and 5 blocks.
Contact Micheal Rios, mrios@tulaliptribes-nsn.gov