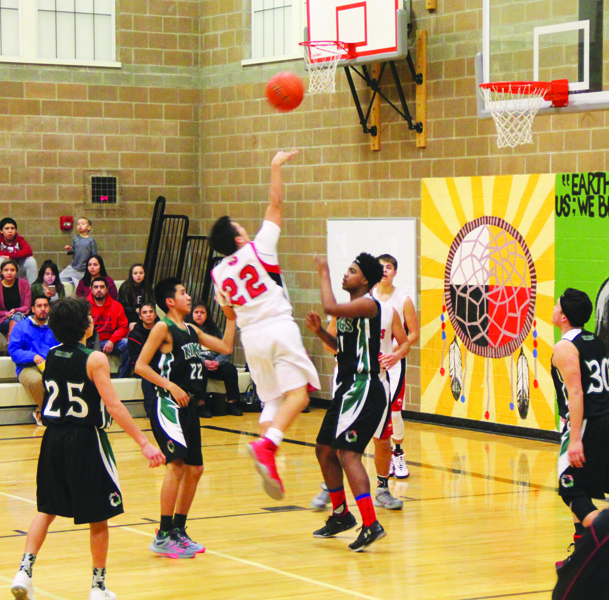 By Micheal Rios, Tulalip News
After taking 3rd place in the District 1-1B boys basketball tournament the Heritage Hawks hosted the Muckleshoot Kings at Francy J. Sheldon gymnasium on Thursday, February 11. On the line was a spot in the Tri-District tournament. Winner plays on, loser goes home wondering what could have been.
From the early going, observers could tell it was going to be a fast-paced, high scoring game. The Hawks took an early 14-2 lead only minutes into the opening quarter, but the Kings went on a 15-4 run to cut the Hawks lead to 2 points, 19-17. At the end of the 1st quarter, the Hawks led 26-21.
In the 2nd quarter, both teams played much better defense and slowed down the scoring. Seniors Willy Enick and Robert Miles were determined to not have this game be the final of their high school career. At half-time they combined to score 30 points as the Hawks maintained a slim 37-35 lead.
In the 3rd quarter, Willy and Robert continued to play their two-man game, with Willy finding Rob in the post with a clear matchup advantage on multiple occasions. The Hawks were playing their game, their tempo, while all the while being aware of favorable matchups on the offensive end. At the end of the quarter the Hawks scored 19 points to the Kings 9 points, and led 56-44 with only one quarter to play.
The Hawks got multiple Kings players into foul trouble during the first three quarters and earned the free throw bonus early in the 4th quarter. As a team the Hawks picked this critical game to have their best free throw shooting game on the season. In fact, the Hawks shot a very impressive 25-30 from the charity stripe as a team. Add in the total domination of their two senior captains, Rob with 32 points and Willy with 28 points, and it's no surprise the Hawks put up a season high 77 points in their 77-68 victory. With the win, the Hawks season continues as they earned their spot in the Tri-District tournament.