Article/photos by Micheal Rios
During the week of April 11-15, the Betty J. Taylor Early Learning Academy (TELA) celebrated the Week of the Young Child. The week was devoted to shining a light on the importance of early childhood development.
"All young children need and deserve high-quality early learning experiences that will prepare them for life, and Tulalip has a great opportunity to do our part to help young children," stated Melinda Contraro, Professional Development Manager at TELA. "Week of the Young Child is a time for Tulalip to recognize that early years are learning years for all young children."
Week of the Young Child is an annual celebration sponsored by the National Association for the Education of Young Children. Intended to celebrate early learning, young children, their teachers and families, the weeklong event is the perfect opportunity for early childhood programs to hold activities that bring awareness to the needs of young children.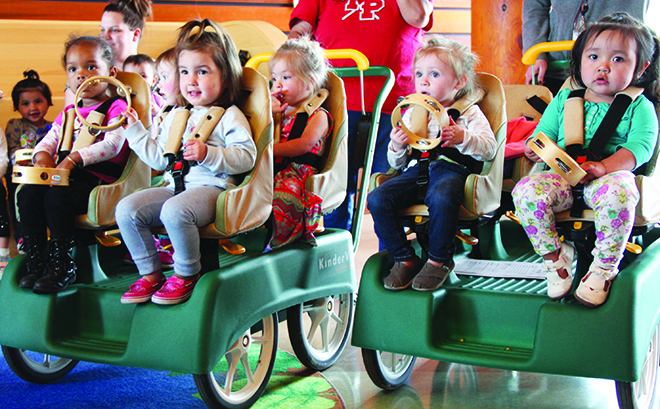 Young children and their families depend on high-quality education and care, which help children get a great start and bring lasting benefits to Tulalip. Week of the Young Child is a time to recognize the importance of early learning and early literacy, and to celebrate the teachers and policies that bring early childhood education to young children.
"We will share some activities with our families and provide take home ideas for them to do with their children," continued Melinda. "TELA has nearly 100 early childhood professionals working together to improve professional practice and working conditions in early childhood education, and to build public support for high-quality early childhood education programs."
The week of fun and family friendly activities kicked off on Monday, April 11, with Music Monday. The reception area was transformed into a musical platform for Alley-Oop and his sunshine band of toddlers.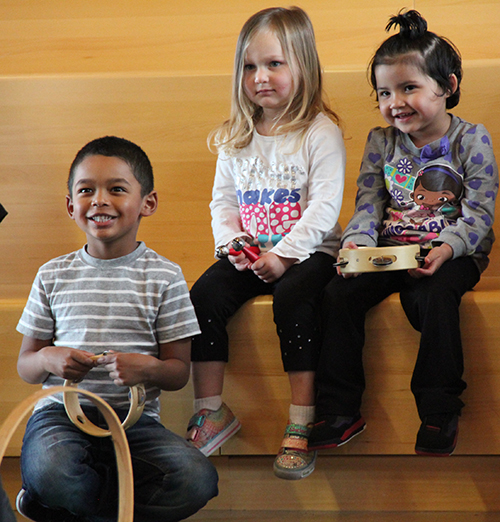 Music Monday: sing, dance, celebrate and learn. Through music, children develop math, language, and literacy skills all while having fun and being active.
Taco Tuesday: healthy eating and fitness at school. This fun, food-themed day is about more than just cheese and salsa. Cooking together connects math with literacy skills, science, and more. With the rise of childhood obesity, you can encourage healthy nutrition and fitness habits in the classroom by creating your own healthy tacos.
Work Together Wednesday: work together, build together, and learn together. When children build together they explore math and science concepts and develop their social and early literacy skills. Children can use any building material – from a fort of branches on the playground to a block city in the classroom.
Artsy Thursday: think, problem solve, create. Children develop creativity, social skills and fine motor skills with open-ended art projects where they can make choices, use their imaginations, and create with their hands. On Artsy Thursday celebrate the joy and learning children experience when engaged in creative art making.
Family Friday: sharing family stories. Engaging and celebrating families is at the heart of supporting our youngest learners. We applaud family members' role as young children's first and most important teachers.