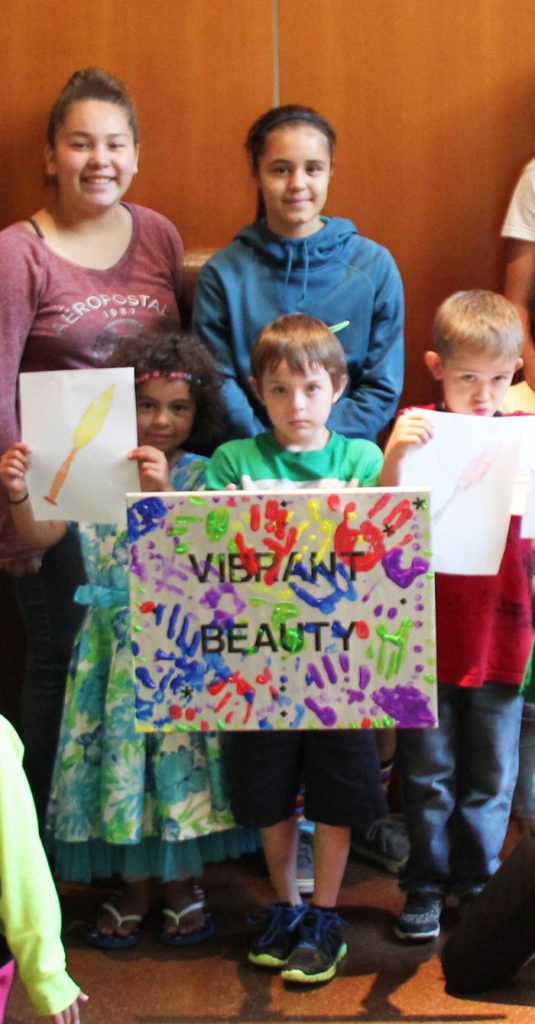 By Micheal Rios, Tulalip News 
On Monday, July 11, a group of kids from the Tulalip Boys & Girls Club were invited to contribute to the latest exhibit at the Hibulb Cultural Center. The group of 20 kids got to tour Hibulb, check out the still in development Vibrant Beauty exhibit, and then were treated to a Ty Juvinel story time.
"The Hibulb Cultural Center is closed on Mondays, so the staff there have invited us to bring in a group of kids every Monday during the summer," says Diane Prouty, Office Manager of the Tulalip Boys & Girls Club. "So every Monday during summer camp we pick 20 different kids to tour Hibulb and participate in a creative activity. It's a great opportunity for the kids to explore and learn something new.
"Some of our kids are new to the Boys & Girls Club and aren't Native American. These kids have never been to Hibulb, they've never experienced it. By taking them to Hibulb they get to experience the beauty, see the artwork, and learn about Tulalip culture. I want all our kids to have that opportunity."
After a guided tour of the cultural center, the kids got to hear Ty Juvinel tell three of his original stories. The first story was Mouse and the Mountain, which is about perseverance and not underestimating anyone's potential. Next up, How Puppy Got His Ears conveys the importance of listening to your parents. Lastly, How Hummingbird and Butterfly Painted All the Flowers expresses the significance of teamwork and cooperation.
"The kids sat very glued and listened to every word he said. They were really good and very respectful," describes Diane.
Following story time, the kids had the opportunity to contribute to a very unique piece of artwork that will be on display when the Vibrant Beauty exhibit opens Saturday, July16. The kids were given a canvas to leave their unique handprint on. Assisted by Ty and Mary Jane Topash, Hibulb Group Tours Specialist, the kids took turns dipping their right hand into their choice of colored paint, then leaving their brightly colored hand print on the canvas. The kids' artwork adds just another piece of vibrant beauty to the Hibulb collection.