21st Annual Lushootseed Day Camp
By Micheal Rios, Tulalip News 
During the sizzling, summer days of July 25-28, the old Tulalip Elementary gymnasium was glowing with rays of joy as it was home to the 21st Annual Lushootseed Day Camp, week 2. The camp was open to children age five to twelve who wanted to learn about their culture and Lushootseed language through art, songs, games, weaving and storytelling.
Each year the Lushootseed Department teams up with the Cultural Resources Department, along with a select number of very vital community volunteers, to hold two one-week camps. Each camp has openings for up to 50 participants, but this year the demand was so high that 64 kids participated in week one, while a whopping 80 kids comprised Language Camp week 2.The two-week total of 140+ Tulalip youth involved in Language Camp smashed the record for youth participation and attendance.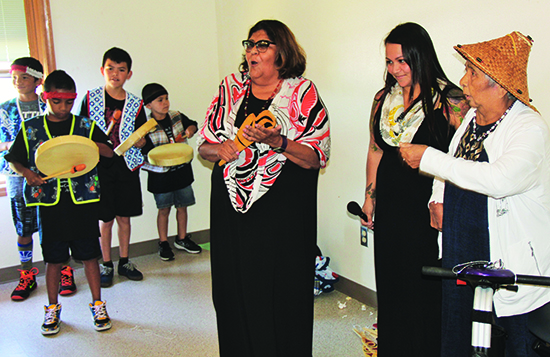 "We are dedicating the 21st Annual Lushootseed Language Camp to Morris Dan and Harriette Shelton-Dover, for their guidance and teachings bringing back the Salmon Ceremony, as well as honoring Stan Jones Sr. "Scho-Hallem" for his decades of leadership and determination to keep the ceremony going," said Lushootseed language teacher and co-coordinator of the camp, Natosha Gobin. "This year we are recreating the Salmon Ceremony to pass on the teachings to our youth. Vests and drums will be the regalia made for the boys, while the girls' regalia will be shawls and clappers."
Using the 1979 Salmon Ceremony video to help pass on the earliest teaching of what is still practiced today, the young campers learned a selection of highlighted songs and dances.  The lessons learned each day during Language Camp were based on the teachings of the Salmon Ceremony by way of songs and dances, traditional teachings, language, art, weaving, and technology. The goal this year was to provide our youth with some basic regalia along with the knowledge and ability to sing and dance. Staffers hope the youth that have participated have the teachings and experience needed so they will stand up and sing at every opportunity.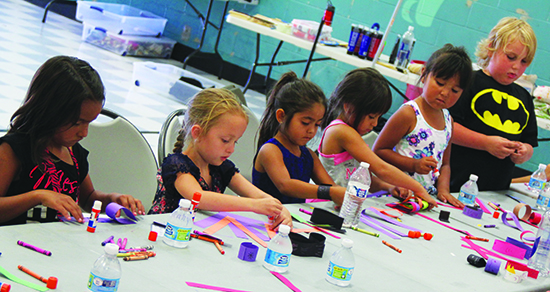 Throughout the duration of camp, the children participated in seven different daily activities. The following list is what each child accomplished throughout the week:
Art – Salmon bracelets, Salmon hands, paddle necklaces.
Weaving – Pony Bead loom beading, small raffia baskets.
Songs and Dances – Welcome Song, Eagle Owl BlueJay Song, Snohomish Warrior Song.
Traditional Teachings – Salmon Ceremony videos, traditional stories, realia experience in traditional story and science face of how Salmon migrate.
Games – Various games and playground time.
Language – letter sounds, Salmon Ceremony key words, Lushootseed workbook.
Technology – children learned and practiced Lushootseed materials related to Salmon Ceremony using the Nintendo DSi handheld games created by Dave Sienko.
The closing ceremony for week two's camp was held on Friday, July 30 in the Kenny Moses Building. The joyous, young play-performers made their debut to a large community attendance, as family and friends came out in droves to show their support.
"I want the kids to know that I love each and every one of you. When teachers are new to our community and they hear their Principal telling kids 'I love you' it's foreign to them, but it's one of our most important traditional teachings," stated ceremonial witness Dr. Anthony Craig, former Principal of Quil Ceda Tulalip Elementary. "We have to make sure we are expressing love every single day, otherwise people forget that it's a traditional teaching. I love that they are here today and I love that they practicing their culture because culture is not something that just exists in a building or during a season. Culture is every day; every day we have to figure out ways to strengthen our culture and here they are doing that."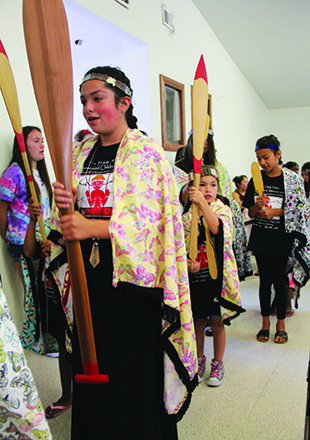 Also in attendance to witness the youth Salmon Ceremony were two very special guests. The 21st Annual Lushootseed Language Camp was dedicated to the late Morris Dan, our Swinomish relative, and the late Harriette Shelton-Dover, our Snohomish relative. Together Morris and Harriette brought back the teachings, songs and dances to the Salmon Ceremony that is still held yearly in Tulalip. Neah Martin, daughter of Morris Dan, and her daughter Merla Martin, oldest granddaughter of Morris Dan traveled to Tulalip to witness the teachings of their father and grandfather being honored by Tulalip's next generation.
"I'm glad that all you children honored these beloved elders here today," said Merla Martin, who was one of the lead dancers in the 1979 Salmon Ceremony video that the children learned from. "I'm very happy the teachings are still being passed on. Thank you for honoring my grandfather."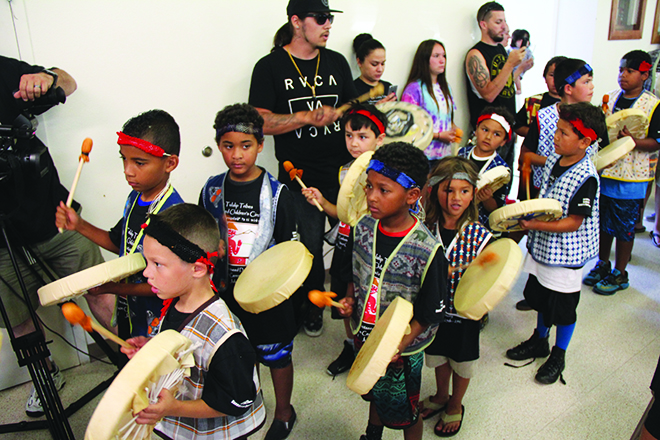 After the youth performed their rendition of Salmon Ceremony and the ceremonial witnesses had shared a few words, there was a giveaway. The camp participants gave handmade crafts to the audience members, which preceded a salmon lunch that everyone thoroughly enjoyed.
Reflecting on the conclusion of this year's 21st Annual Language Camp, Natosha Gobin beamed with pride, "My spirit is so happy. My heart is full. I raise my hands to each of the 140-plus kids who spent time with us to learn the teachings, rising up to sing, dance and carry these lessons on for the next generations. I'm grateful to the volunteers for giving their all to our youth while mentoring them daily during camp. You have created lifelong bonds with them and they will continue to look to you for guidance. My co-workers busted their buns planning, prepping, working, making sure every detail was taken care of.  To all the parents we say 'thank you' from the bottom of our hearts for sharing your kids with us and showing them their language, culture and teachings are relevant!"