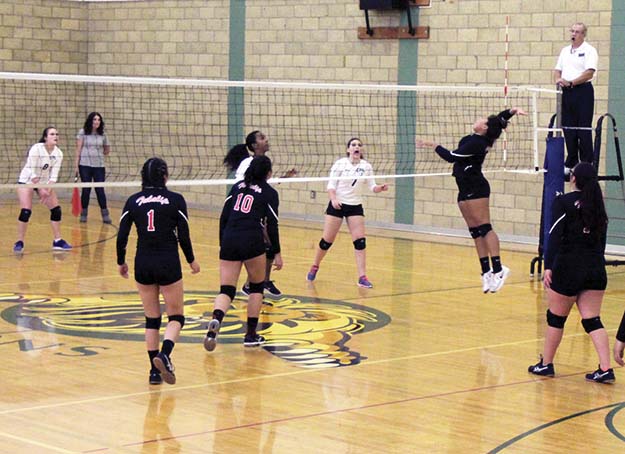 By Micheal Rios, Tulalip News
After opening the season in grand fashion, undefeated at 5-0 and sitting atop the league standings, the Tulalip Heritage Lady Hawks have taken the L in consecutive matches.
On Friday, September 30, the Lady Hawks (5-0) hosted the Highlanders (2-1) from Providence Classical Christian. The Lady Hawks got shellacked 9-25 in the 1st game, but responded with a gritty 25-23 win in the 2nd game. The 3rd game was a repeat of the 1st, with the Lady Hawks committing too many errors and not able to return the ball. They dropped the 3rd game 10-25.  Again, the home team responded with a well-played 4th game, winning 25-14, and forcing a match deciding Game 5.
In the 5th game, the Lady Hawks started out playing with a sense of urgency and went up 6-3. However, they weren't able to keep it up and the Highlanders would battle back and claim the game and match victory. It was the first taste of defeat for the Lady Hawks.
On Monday, October 3, the Lady Hawks (5-1) traveled to Mountlake Terrace to take on the Lions (5-1) of Cedar Park Christian. These two teams were tied for first in the Northwest 1B league.
The Lady Hawks came out ballin' in the 1st game. They took a very quick 12-1 lead and closed out the game 25-16. Unfortunately, the tide turned in the Lions favor as they seemed to figure out the Lady Hawks offensive strategy. At every opportunity, the Lions would wait for the setter and put their tallest players at the net to block Lady Hawk attacks. The Lions strategy worked as they won the 2nd game 25-18, 3rd game 25-19, and 4th game 25-15.
Tulalip falls to second in the standings with a (5-2) record. They now have a few days to practice, watch game film, and figure out where they can make adjustments. With upcoming home games on Monday, October 10, and Wednesday, October 12, the Lady Hawks will look to right the ship and get back to their winning ways.