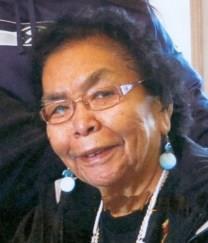 Leota Lynette (Price) Pablo, 81 of Tulalip went to be with her Lord on November 11, 2016 surrounded by her loving family.
She was born January 25, 1935 in Tulalip, WA to William and Elsie Price. She worked for 35 years doing a number of jobs for the Tulalip Tribes including, Land Lease Administrator, Recording Secretary for the Tulalip Board; Tax Exempt File Clerk; Port Master at the Marina; and she was on the Tribal Enrollment Committee. She was an ordained minister, third elder and bishop in the Tulalip Full Gospel Shaker Church. Her side jobs were owning and operating a frybread stand, and selling fireworks, all while raising five boys. Some of the things she loved to do were weddings for people; praying for many people; as well as going to garage sales; getting apples and peaches from Wenatchee and Yakima for canning; playing bingo and going to the Casino. She was also a fill-in and extra for the CBS series – the Northern Exposure.
She is survived by her special auntie Lorraine Joseph; brother Gary Price; sister Sheila Price; children, Danny Sr. (Stephanie), Louie Sr., Jimmy, and Roger (Maxine) Pablo; daughter-in-law, Lori Parks; numerous grandchildren, great-grandchildren and great-great grandchildren in both Washington and Montana; special grandchildren Dan Pablo Jr., and Michael Pablo Sr. whom she helped raise. She is preceded in death by her husband, Louis Pablo Sr.; her parents; son, Eddie; sister June Ione Pablo; grandsons Louie III, Desmond Paul Pablo; great-grandson, Dontae Wayne Jones; and two children at birth; as well as all her 13 of her siblings.
Visitation will be Thursday, Nov. 17, 2016 at 1:00 PM at Schaefer-Shipman Funeral Home with an Interfaith service to follow at 6:00 PM at the Tulalip Gym. Funeral Services will be held Friday at 10:00 AM at the Tulalip Gym with burial to follow at Mission Beach Cemetery.
Arrangements under the direction of Schaefer-Shipman Funeral Home, Marysville, WA.