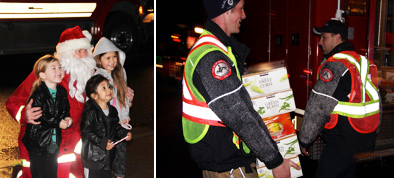 This Friday, Saturday and Sunday, December 16-18 from 6:30 p.m. to 9:30 p.m.,  Santa Clause and the Tulalip Bay Fire Department will be coming to your neighborhood.
Every year we go around and collecting canned food donations and/or cash donations. 100% of donations go to the Red Church to help feed families this holiday season who might have gone without. Friday night we will be going to the Potlatch area, 56th-62nd, 64th all the way down Mission Beach and also the Lloyd Hatch area. Saturday we will be going to the Larry Price area, Walter Moses, Mission Highlands, Silver Village and Hermosa Beach. Finally Sunday we'll be stopping by Madison Estates, Tulare, Spee-Bi-Dah, Tulalip Shores and Arcadia.
Come out and see Santa and the Fire Department, get a couple candy canes and thank you in advance for your generosity. We look forward to seeing you this weekend!